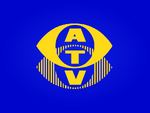 Associated Television was in the first wave of companies to be awarded ITV contracts when the station began in the mid-1950s and was the only consortium to be awarded two franchises: London for the weekend broadcasts (Associated Rediffusion had the weekday contract) and weekday for the Midlands, centering on Birmingham where ABC Television had the weekend contract.
The station first went on the air in London on 24th September 1955 and in the Midlands on 17th February 1956.
In the 1968 franchise reshuffle ATV lost the weekend London franchise to London Weekend Television and in the 1980 round was criticised for its Midlands' regional programming resulting in it being reformed as Central Television which began broadcasting on 1st January 1982.
External links
Edit
Ad blocker interference detected!
Wikia is a free-to-use site that makes money from advertising. We have a modified experience for viewers using ad blockers

Wikia is not accessible if you've made further modifications. Remove the custom ad blocker rule(s) and the page will load as expected.