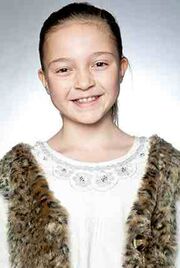 Annelise Hope Manojlovic
(born
18th October
2001
) played
Gabby Thomas
in
Emmerdale
between
2001
and
2015
.
Annelise and Jemma Giles were cast simultaneously as "Gabrielle Diane Thomas" in 2001 (standard practise in Film and TV as babies are inconsistent in their nature) taking turns to appear on film. Both babies started filming within a few weeks of being born. Annelise had a fine blonde fluff and Jemma had longer, thicker black hair, so most scenes had the girls appearing with a woolly hat, to disguise the fact that there were 2 different babies playing the part. In 2002, Jemma's mother decided to let her daughter finish in the role, as Jemma never really settled in with the hubub of a busy crew and cast on set. This left Annelise to continue on alone, achieving an impressive run of 14 years before Rosie Bentham took over the role in 2016.
Ad blocker interference detected!
Wikia is a free-to-use site that makes money from advertising. We have a modified experience for viewers using ad blockers

Wikia is not accessible if you've made further modifications. Remove the custom ad blocker rule(s) and the page will load as expected.