Cameron Murray
Talk

6
8,192pages on
this wiki
Cameron Murray is a former boyfriend of Debbie Dingle whom she met and had an affair with whilst she was living in Jersey.                                                                      
Biography
Edit
Initially embarking on an affair when Debbie Dingle was working in Jersey in 2010, Cameron came to the village after tracking Debbie down, telling her that he has left his wife and sons for her. Debbie tells him that their affair was a mistake. Carl King gave Cameron a job at Emmerdale Haulage and he catches the eye of Eve Jenson. Debbie finally gives into Cameron and they get back together. He also moves into Tug Ghyll Cottage with her and her daughter, Sarah, and Andy Sugden, Sarah's father, is jealous of Sarah and Cameron's relationship. Cameron also clashes with Debbie's father, Cain and tries to persuade Cain not to interfere in his and Debbie's relationship.
Debbie learns Cameron had another affair after she left Jersey, but he insists it meant nothing and is delighted when Debbie tells him that she is pregnant but miscarries not long afterwards. Cameron tries to support her and not let his feelings show. His sons, Dylan and Harry, come to stay for a few days. Sarah become sick and they learn she has a rare genetic disorder. Cameron hires his own truck and starts poaching the King's customers. Carl attacks Cameron's truck and Cameron then plots to ruin the Kings. Cameron, Cain and Charity Dingle steal the King's haulage trucks and sell them off. Cameron then wipes all the files containing contracts from Carl's computer. This prompts Cain to tell Cameron he is part of the Dingle clan.
Sarah falls ill and Cameron supports Debbie. Debbie realises that she needs to conceive a saviour sibling with Andy and tries for IVF, however when this fails she sleeps with him. Cameron is unhappy when her learns they had sex together and they breifly seperate but soon get back together. Cameron embarks on an affair with Debbie's aunt Chas Dingle and promises to leave Debbie for her but chickens out. Chas then ends the affair. Carl later discovers the affair and begins blackmailing Cameron and Chas for money. Cameron becomes desperate to raise the amount and he and Chas attempt to rob The Woolpack. This does not work however as Carl sees Cameron and phones the police. Chas takes the blame for the robbery. On Emmerdale's 40th Live Anniversary, Cameron threatens Carl in the church but Carl just laughs Cameron off. Later that episode Cameron sees Chas running away and goes to see what she's running from. He finds a weakened Carl and they argue. Carl goads Cameron about the affair and how Debbie will react. Carl tells Cameron he will never be able to kill him because he is indestructable while Cameron hits him over the head with a brick, killing him. Cameron checks if Carl is alive; when he is not, Cameron flees.
Meanwhile Debbie is giving birth to baby Jack, allowing Cameron to wash his bloodstained clothes. Cameron is thrilled about Jack's birth and cannot wait to be a family with Debbie,Sarah and Jack. Debbie finds out about the affair and dumps Cameron. Cameron tries to persaude Chas to flee Emmerdale, scared what will happen to them once Cain finds out. Cain and Charity stop them and Chas confesses to murdering Carl, not knowing it was actually Cameron. Cameron does not admit to killing Carl and Chas is charged with his murder. Consumed with guilt, he confesses the truth to
Alex Moss
. Cameron is then relieved to hear that Chas has been acquitted, but he suspects Alex may go to the police, so he takes Alex hos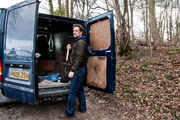 tage in a haulage van. Alex excapes and runs through the woods but Cameron is too quick and catches Alex before dragging him back to the van. As Alex ran Cameron cannot risk him going to the police so kills him in the van. Cameron is later seen burying Alex in the woods along with his bag of clothes he stole. However later work begins on the site where Alex is buried so Cameron returns to the gravesite and unearths Alex' decaying corpse and moves it to a different location and burns Alex' bag before returning to the village.
Cameron shocks the Dingles' and proposes to Chas and they get engaged. Cameron flies his sons over from Jersey to meet Chas properly and the boys are at first wary of Chas. They start to warm to her but they run and hide at Debbie's once they find out she mudered Carl. Cameron flies back to Jersey with his boys after he can't convince them to stay. When he comes back the atmosphere is tense but he does not realise Debbie had just held Chas at gun point. Later in the year, Cameron and Chas aim to buy The Woolpack but when Cameron's ex-wife Anna refuses to let Cameron see his boys, they are forced to use the money to apply for custody.
Belle Dingle drinks half a bottle of Debbie's dodgy vodka and is left with possible brain damage. Debbie and Sarah walk in to find Belle has fainted and Sarah rushes to get Cameron. Cameron and Debbie rush Belle to hospital and Cameron comforts Debbie as she feels guilty. He also does not tell the Dingles it was Debbie's vodka. However the Dingles eventually find out and disown Debbie. Cameron begins to feel sorry for Debbie when Andy takes
Jack
and Sarah away and the pair share a kiss but are almost caught by Chas. Cameron persuades Debbie not to flee and the pair sleep together. He later learns that Debbie almost murdered Chas by holding her a gunpoint whilst he was away in Jersey.
Gennie Sharma
begins to notice a connection between both Cameron and Debbie as they begin to get close again and she tries to get the evidence she needs to prove to Chas that she's right about Cameron by breaking into Debbie's house to record the pair. However, she gets more than she bargained for as Cameron confesses to the murder of Carl to Debbie. After reconciling their relationship, they both head to The Woolpack to tell Chas that they've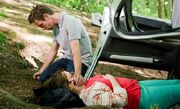 reunited but are shocked to see Gennie emerging from their house. They suddenly realise she overheard the confession and chase her. A scared Gennie gets into her car but are quickly pursued by Cameron and Debbie. However, Gennie's car spirals out of control and she's involved in a huge car crash. Panicking, Debbie calls the police while Cameron helps a badly injured Gennie out of wrecked car. Knowing she could expose his secret, Cameron claims his third victim and murders Gennie.
Debbie feels guilty and is desperate for Cameron support however Cameron says he has to stay with Chas right now. They agree to tell Chas after Gennie's funeral. On the day of the funeral Chas wonders where Cameron has gone - she later sees him coming out of Debbie's house. In the funeral she realises that Cameron and Debbie are seeing each other. Struggling to contain her emotion Chas runs out the church whilst giving a speech about Gennie. Cain runs after her and demands to know what Cameron has done - she replies he did Debbie. Fuming, Cain punches Cameron at Gennie's wake and Debbie and Cameron reveal that they are now a couple.
Cameron comes to live with Debbie but while he is moving his stuff into the house, Cain taunts him. Cameron taunts him back, leading to Cain knocking him unconscious and dragging him into his car. Debbie witnesses this and tries to stop Cain, however Cain drives off. Desperate to know where Cain is taking Cameron, Debbie starts shouting at Charity and Chas, demanding to know where he is. Charity reveals that he might be at the quarry as that was where she and Cain once planned to kill Cameron and fake his suicide. Debbie rushes to her car and drives to the quarry. She finds a tied and gagged Cameron locked in the back of the car while Cain wipes his fingerprints of the steering wheel. Debbie begs Cain to stop but Cain ignores her and proceeds to push the car off the cliff. Unable to physically stop him, Debbie stands in front of the car. Cain demands Debbie to move however she does not, saying he will have to push her off as well. Cameron pleads with Debbie to move, knowing that the ground underneath is crumbling and it is unsafe. Debbie does not resent and Cain emotionally says that she is choosing Cameron over her family to which Debbie replies please don't make me choose. Cameron shouts at Cain to let him go and Cain does so. Cameron then punches Cain but Debbie stops him from doing more. Debbie and Cameron decide to have a break and go on holiday to Jersey. When they return the Dingles are still apprehensive about Cameron.
After Debbie finds Gennie's dictaphone she realises Cameron murdered Gennie. She tells Chas who takes her to the police. Debbie is wired by the police as she tries to get Cameron to confess.Cameron proposes to Debbie and she accepts. Debbie manages to get Cameron talking about Carl and Gennie's deaths. She tells him that she will forgive him if he tells her what really happened. Cameron then explains how he put his hand over Gennie's mouth and killed her. Debbie screams out a code word and Cameron realises that the police are watching him. He holds Debbie hostage and threatens to kill her. Debbie tries to reason with Cameron, but then she asks if Alex deserved it. Cameron drags Debbie up the stairs, but she pushes him down, injuring him. Debbie escapes and Cameron is arrested.
In early October 2013, Cameron escapes from prison. Debbie's house is guarded by policemen at all times. Cameron tricks the police in thinking he has escaped to another country by appearing on CCTV at an airport, but then moves out the way of the camera and makes his way to Emmerdale. After kidnapping Sarah, he enters the Woolpac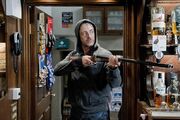 k with a double barrel shotgun and holds various villagers at gunpoint. Unbeknownst to him, the gun only has 4 bullets. After threatening to shoot
Zak Dingle
, he accidentally shoots
Alicia Harding
, one of the hostages. The remaining hostages plead with Cameron to let her go so she can be treated, and he eventually lets her go free with
David Metcalfe
. Finally Cameron lets the rest of the hostages out except for Debbie and Chas, and a dramatic struggle between the three of them causes him to shoot through a window using the last of his bullets. Unaware that all his bullets have gone, he asks Chas and Debbie to decide between them which one should die and counts down from 10. He then had no bullets left but then reloaded the gun. Later on Marlon woke up and knocked Cameron out and held him at gun point as Debbie and Chas tried to escape through the cellar. After the power kept going on and off Cameron and Marlon struggled and Cameron was presumably shot in the process only to appear in the cellar later on. He tried numerous times to drown Debbie, Chas and Marlon. Marlon later escaped and the police then finally broke into the pub as they tried to get rescue Debbie and Chas by cutting into the cellar, Chas was able to escape but Cameron captured Debbie once more, wanting them to die together. He kissed her and pushed her underwater, attempting to drown her. She struggles away and escapes.He tried to grab Debbie's leg once more but it was too late. Gasping for breath, he eventually died from being electrocuted by a light bulb after grabbing onto it.
"I did not want to do this! Why did you have to run? (sobs) - To Alex before he murders him.
"You daft thing! What were you doing sneaking around?" - To Gennie, as he gets her out of her crashed car.
"I'm sorry" - Cameron apologizing to Gennie just before he murders her.
"Just you and me. Just you and me..." (final line)