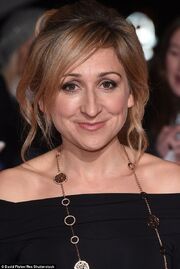 Charlotte Bellamy
(born
20th June
1973
, Dover, Kent, England) is an English actress.
Bellamy attended Middlesex University studying Performance Arts, graduating in 1993.
In 1996, she played the role of Jamie Merrick in A Touch of Frost : "Deep Waters". In 1997 she played the role of the religious fanatic, Sue Taylor, in BBC's EastEnders, but she is best known for her part in ITV's Emmerdale as Laurel Thomas. She won the Best Actress title at the 2008 TV Quick Awards.