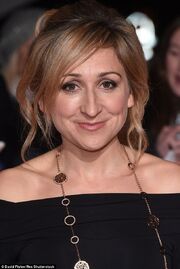 Charlotte Bellamy
(born in
1973
, Dover, Kent, England) is an English actress.
Bellamy attended Middlesex University studying Performance Arts, graduating in 1993.
In 1996, she played the role of Jamie Merrick in A Touch of Frost : "Deep Waters". In 1997 she played the role of the religious fanatic, Sue Taylor, in BBC's EastEnders, but she is best known for her part in ITV's Emmerdale as Laurel Thomas. She won the Best Actress title at the 2008 TV Quick Awards.
Ad blocker interference detected!
Wikia is a free-to-use site that makes money from advertising. We have a modified experience for viewers using ad blockers

Wikia is not accessible if you've made further modifications. Remove the custom ad blocker rule(s) and the page will load as expected.