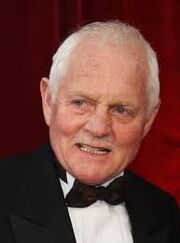 Christopher John Chittell
(born
19th May
1948
in Aldershot, Hampshire) is an English actor best known for his role as
Eric Pollard
in ITV's Emmerdale, a part that he has played since
1986
.
His father served in the Indian Army, and on leaving school Chittell intended to join the Royal Navy, but instead, he became a model. His first acting stint was at age 19, appearing as Potter in the 1967 film To Sir, with Love. In 1968 he appeared as a Trooper in The Charge of the Light Brigade and made an uncredited appearance in If..... This was followed by a starring role as one of the Freewheelers, made as an action/adventure children's serial by Southern Television between 1968 and 1973.
Apart from Emmerdale, his other appearances include roles in The Beast in the Cellar (1970), The Raging Moon (1971), Zulu Dawn (1979), and for two seasons in the 1970s science fiction drama The Tomorrow People. In the 1970s he appeared in a number of pornographic films, including Swedish Sex Games (1974), Erotic Inferno (1975), Ta Mej I Dalen (Swedish) (1977), Molly (Swedish/English) (1977), and Let Us Play Sex. Chittell says he made these films in order to clear a number of large debts caused by failed business ventures.
Ad blocker interference detected!
Wikia is a free-to-use site that makes money from advertising. We have a modified experience for viewers using ad blockers

Wikia is not accessible if you've made further modifications. Remove the custom ad blocker rule(s) and the page will load as expected.