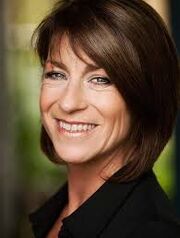 Deena Payne
(born
29th August
1954
) is an English actress and former singer who is best known for playing
Viv Hope
in ITV's
Emmerdale
.
Payne was born in Orpington, Kent. She used to tour with ex-Animals keyboard player Alan Price as a backing singer and she was a member of the novelty girl band Cats U.K.. She was also one of the dancers in Rock Follies of '77.
Payne is married to musician Steve Grant who is currently touring with The Sweet.
On 7 November 2007 it was announced Payne would take a 12-month break from Emmerdale in the summer of 2008. She returned to the series on 14 July 2009, then announced her desire to leave once more.
On 13 January 2011 her Emmerdale character was written out of the series.
Ad blocker interference detected!
Wikia is a free-to-use site that makes money from advertising. We have a modified experience for viewers using ad blockers

Wikia is not accessible if you've made further modifications. Remove the custom ad blocker rule(s) and the page will load as expected.