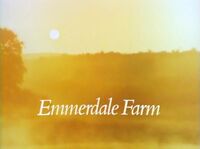 1979 was Emmerdale's 8th year. Storylines included the rape of Wendy Hotson, Joe Sugden's accidental shooting of Phil Fletcher during an argument, the arrival of new estate manager Maurice Westrop, along with his daughter Judy, a depressive alcoholic. 53 episodes were broadcast this year.
Production
Edit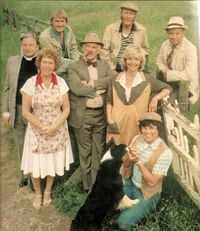 The strike at Yorkshire Television came to an end on 3rd January 1979 at 5.45pm. With new episodes of the programme due to air from 16th January, ITV quickly hurried the remaining three episodes leftover from 1978 into the schedule, beginning with Episode 490 that very evening. The remaining two episodes were broadcast the following week.
Early on in the year, it was announced that Anne W. Gibbons would be taking over from Michael Glynn as producer. Anne would be the programme's first female producer. She took over the position in June, but due to the 1979 ITV Strike, her work wasn't seen on screen until January 1980. The last episode to be shown before the strike was Episode 542 which was also the last episode aired before the programme's summer break.
The popularity of the show continued to increase as more and more episodes broke into the AGB ratings charts. This year, 33 episodes out of the 53 broadcast made the top twenty chart.
#
Ep.
No.
Date
Writer
Director
Viewing
Figures
Chart
Position
1
490
Wednesday 3rd January
Malcolm Lynch
Nick Gray
n/k
n/k
2
491
Tuesday 9th January
Neville Siggs
Darrol Blake
n/k
n/k
3
492
Thursday 11th January
Neville Siggs
Darrol Blake
n/k
n/k
4
493
Tuesday 16th January
Neville Siggs
Darrol Blake
n/k
n/k
5
494
Thursday 18th January
Neville Siggs
Darrol Blake
n/k
n/k
6
495
Tuesday 23rd January
Neville Siggs
Darrol Blake
14,750,000
17
7
496
Thursday 25th January
Neville Siggs
Darrol Blake
n/k
n/k
8
497
Tuesday 30th January
Kevin Laffan
Paddy Russell
14,300,000
12
9
498
Thursday 1st February
Neville Siggs
Darrol Blake
n/k
n/k
10
499
Tuesday 6th February
Kevin Laffan
Paddy Russell
n/k
n/k
11
500
Thursday 8th February
Kevin Laffan
Paddy Russell
14,000,000
20
12
501
Tuesday 13th February
Kevin Laffan
Paddy Russell
14,550,000
20
13
502
Thursday 15th February
Kevin Laffan
Paddy Russell
14,800,000
16
14
503
Tuesday 20th February
Douglas Watkinson
Richard Handford
14,550,000
12
15
504
Thursday 22nd February
Douglas Watkinson
Richard Handford
14,250,000
16
16
505
Tuesday 27th February
Douglas Watkinson
Richard Handford
13,850,000
17
17
506
Thursday 1st March
Douglas Watkinson
Richard Handford
13,800,000
18
18
507
Tuesday 6th March
Douglas Watkinson
Richard Handford
n/k
n/k
19
508
Thursday 8th March
Douglas Watkinson
Richard Handford
n/k
n/k
20
509
Tuesday 13th March
William Humble
Michael E. Briant
n/k
n/k
21
510
Thursday 15th March
William Humble
Michael E. Briant
n/k
n/k
22
511
Tuesday 20th March
William Humble
Michael E. Briant
13,850,000
19
23
512
Thursday 22nd March
William Humble
Michael E. Briant
n/k
n/k
24
513
Tuesday 27th March
William Humble
Michael E. Briant
n/k
n/k
25
514
Thursday 29th March
William Humble
Michael E. Briant
n/k
n/k
26
515
Tuesday 3rd April
Kevin Laffan
Mike Gibbon
13,650,000
16
27
516
Thursday 5th April
Kevin Laffan
Mike Gibbon
13,550,000
18
28
517
Tuesday 10th April
Kevin Laffan
Mike Gibbon
n/k
n/k
29
518
Thursday 12th April
Kevin Laffan
Mike Gibbon
n/k
n/k
30
519
Tuesday 17th April
Kevin Laffan
Mike Gibbon
12,550,000
18
31
520
Thursday 19th April
Kevin Laffan
Mike Gibbon
12,900,000
14
32
521
Tuesday 24th April
Chris Barlas
Peter Smith
12,650,000
17
33
522
Thursday 26th April
Chris Barlas
Peter Smith
12,750,000
15
34
523
Tuesday 1st May
Chris Barlas
Peter Smith
13,050,000
10
35
524
Thursday 3rd May
Chris Barlas
Peter Smith
12,400,000
16
36
525
Tuesday 8th May
Chris Barlas
Peter Smith
12,500,000
18
37
526
Thursday 10th May
Chris Barlas
Peter Smith
13,150,000
13
38
527
Tuesday 15th May
Andy Baker
Richard Handford
11,000,000
15
39
528
Thursday 17th May
Andy Baker
Richard Handford
11,850,000
9
40
529
Tuesday 22nd May
Andy Baker
Richard Handford
12,450,000
8
41
530
Thursday 24th May
Andy Baker
Richard Handford
12,250,000
10
42
531
Tuesday 29th May
Andy Baker
Richard Handford
11,100,000
12
43
532
Thursday 31st May
Andy Baker
Richard Handford
11,050,000
13
44
533
Tuesday 5th June
Michael Russell
Mike Gibbon
11,150,000
17
45
534
Thursday 7th June
Michael Russell
Mike Gibbon
11,750,000
13
46
535
Tuesday 12th June
Neville Siggs
Mike Gibbon
n/k
n/k
47
536
Thursday 14th June
Neville Siggs
Mike Gibbon
11,800,000
10
48
537
Tuesday 19th June
Neville Siggs
Mike Gibbon
9,650,000
20
49
538
Thursday 21st June
Neville Siggs
Mike Gibbon
10,500,000
16
50
539
Tuesday 26th June
Kevin Laffan
Richard Handford
10,100,000
16
51
540
Thursday 28th June
Kevin Laffan
Richard Handford
11,050,000
13
52
541
Tuesday 3rd July
Kevin Laffan
Richard Handford
n/k
n/k
53
542
Thursday 5th July
Kevin Laffan
Richard Handford
n/k
n/k
Main Cast
Edit
Storylines
Edit
to be added
Who lives where
Edit
to be added
Awards and Nominations
Edit
to be added