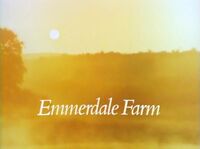 1983 was Emmerdale's 12th year. Storylines included Sandie Merrick's pregnancy and Joe Sugden's affair with Barbara Peters and his departure for France. 72 episodes were broadcast this year.
Production
Edit
Anne W. Gibbons continued work as producer for the majority of the year, but handed over to Richard Handford from Episode 819 on 4th October. Around the same time, Frazer Hines left the series as Joe Sugden moved to France. Onscreen, Joe's relationship with Barbara Peters also ended and she left the village as Rosie Kerslake departed. Jane Hutcheson took a break as Sandie Merrick for the remainder of the year, leaving in February as Sandie went to stay with Tom Merrick in Aberdeen.
Elsewhere, George Little reappeared as Edward Ruskin, last seen in 1974, for a small storyline in May and, in November, Tony Pitts joined the cast as Archie Brooks, shortly after being turned down for the part of Terry Duckworth in Coronation Street. Beverley Callard passed through the village this year in a supporting role, playing Angie Richards, a love interest for Jackie Merrick.
One tabloid newspaper publicly revealed the previously 'secret' location of Esholt being used for exterior scenes since 1976. A story was printed about residents from the "tiny Yorkshire village of Esholt, near Bradford" being angered over an increase in tourists after coach operators discovered the location of filming. The report went on to say that some tourists had been trespassing on private land in an attempt to catch glimpses of the cast. Yorkshire Television were still under contract not to name the village however and only provided comment to say that they had never done-so, so it was up to members of the public to find out if the newspapers reports were true.
In other goings on, Al Dixon's portrayal of silent Woolpack customer Walter made the tabloids as fans set up a petition for Yorkshire Television to give Walter lines of dialogue. The petition was to no avail however and Walter remained onscreen and silent.
Viewing figures also made the headlines this year as the programme creeped into ITV's Top 10 chart a total of eight times. At one point even rising to number five and prompting a newspaper to declare that the programme was now rivaling Crossroads, though in the long-term that wasn't strictly the case. Cast and crew reportedly believed that should Thames Television grant them a prime time slot, they would seriously start being able to challenge the other serials, but Thames made no change to its schedule.
The programme's summer break once again saw it disappear from schedules for July and August.
#
Ep.
No.
Date
Writer
Director
Viewing
Figures
Chart
Position
1
771
Tuesday 11th January
Kevin Laffan
Frank W. Smith
n/k
n/k
2
772
Thursday 13th January
Kevin Laffan
Frank W. Smith
n/k
n/k
3
773
Tuesday 18th January
Michael Russell
Mervyn Cumming
n/k
n/k
4
774
Thursday 20th January
Michael Russell
Mervyn Cumming
n/k
n/k
5
775
Tuesday 25th January
Kevin Laffan
Frank W. Smith
n/k
n/k
6
776
Thursday 27th January
Kevin Laffan
Frank W. Smith
n/k
n/k
7
777
Tuesday 1st February
Kevin Laffan
Frank W. Smith
n/k
n/k
8
778
Thursday 3rd February
Kevin Laffan
Frank W. Smith
n/k
n/k
9
779
Tuesday 8th February
Kevin Laffan
Frank W. Smith
n/k
n/k
10
780
Thursday 10th February
Kevin Laffan
Frank W. Smith
n/k
n/k
11
781
Tuesday 15th February
Kevin Laffan
Frank W. Smith
n/k
n/k
12
782
Thursday 17th February
Kevin Laffan
Frank W. Smith
12,850,000
12
13
783
Tuesday 22nd February
Anthony Couch
Mervyn Cumming
n/k
n/k
14
784
Thursday 24th February
Anthony Couch
Mervyn Cumming
n/k
n/k
15
785
Tuesday 1st March
Alan Downer
Mervyn Cumming
n/k
n/k
16
786
Thursday 3rd March
Alan Downer
Mervyn Cumming
n/k
n/k
17
787
Tuesday 8th March
Alan Downer
Mervyn Cumming
n/k
n/k
18
788
Thursday 10th March
Alan Downer
Mervyn Cumming
n/k
n/k
19
789
Tuesday 15th March
Ken Blakeson
Chris Baker
n/k
n/k
20
790
Thursday 17th March
Ken Blakeson
Chris Baker
n/k
n/k
21
791
Tuesday 22nd March
Ken Blakeson
Chris Baker
12,950,000
9
22
792
Thursday 24th March
Ken Blakeson
Chris Baker
12,000,000
11
23
793
Tuesday 12th April
Ken Blakeson
Chris Baker
n/k
n/k
24
794
Thursday 14th April
Ken Blakeson
Chris Baker
n/k
n/k
25
795
Tuesday 19th April
Neville Siggs
Richard Handford
11,150,000
12
26
796
Thursday 21st April
Neville Siggs
Richard Handford
n/k
n/k
27
797
Tuesday 26th April
Neville Siggs
Richard Handford
n/k
n/k
28
798
Thursday 28th April
Neville Siggs
Richard Handford
n/k
n/k
29
799
Tuesday 3rd May
Neville Siggs
Richard Handford
n/k
n/k
30
800
Thursday 5th May
Neville Siggs
Richard Handford
n/k
n/k
31
801
Tuesday 10th May
Kevin Laffan
Frank W. Smith
11,650,000
9
32
802
Thursday 12th May
Kevin Laffan
Frank W. Smith
n/k
n/k
33
803
Tuesday 17th May
Kevin Laffan
Frank W. Smith
11,300,000
9
34
804
Thursday 19th May
Kevin Laffan
Frank W. Smith
10,400,000
12
35
805
Tuesday 24th May
Kevin Laffan
Frank W. Smith
10,250,000
12
36
806
Thursday 26th May
Kevin Laffan
Frank W. Smith
n/k
n/k
37
807
Tuesday 31st May
Kevin Laffan
Mike Gibbon
n/k
n/k
38
808
Thursday 2nd June
Kevin Laffan
Mike Gibbon
9,900,000
n/k
39
809
Tuesday 7th June
Tim Vaughan
Mike Gibbon
9,750,000
n/k
40
810
Thursday 9th June
Tim Vaughan
Mike Gibbon
n/k
n/k
41
811
Tuesday 14th June
Tim Vaughan
Mike Gibbon
10,700,000
5
42
812
Thursday 16th June
Tim Vaughan
Mike Gibbon
9,650,000
n/k
43
813
Tuesday 13th September
Kevin Laffan
Mervyn Cumming
n/k
n/k
44
814
Thursday 15th September
Kevin Laffan
Mervyn Cumming
n/k
n/k
45
815
Tuesday 20th September
Kevin Laffan
Mervyn Cumming
n/k
n/k
46
816
Thursday 22nd September
Kevin Laffan
Mervyn Cumming
n/k
n/k
47
817
Tuesday 27th September
Kevin Laffan
Mervyn Cumming
n/k
n/k
48
818
Thursday 29th September
Kevin Laffan
Mervyn Cumming
n/k
n/k
49
819
Tuesday 4th October
Tim Vaughan
Frank W. Smith
n/k
n/k
50
820
Thursday 6th October
Tim Vaughan
Frank W. Smith
n/k
n/k
51
821
Tuesday 11th October
Tim Vaughan
Frank W. Smith
n/k
n/k
52
822
Thursday 13th October
Tim Vaughan
Frank W. Smith
n/k
n/k
53
823
Tuesday 18th October
Tim Vaughan
Frank W. Smith
n/k
n/k
54
824
Thursday 20th October
Tim Vaughan
Frank W. Smith
n/k
n/k
55
825
Tuesday 25th October
Adrian Reid
Mervyn Cumming
n/k
n/k
56
826
Thursday 27th October
Adrian Reid
Mervyn Cumming
n/k
n/k
57
827
Tuesday 1st November
Adrian Reid
Mervyn Cumming
n/k
n/k
58
828
Thursday 3rd November
Adrian Reid
Mervyn Cumming
n/k
n/k
59
829
Tuesday 8th November
Tim Vaughan
Mervyn Cumming
n/k
n/k
60
830
Thursday 10th November
Tim Vaughan
Mervyn Cumming
n/k
n/k
61
831
Tuesday 15th November
Michael Russell
Tim Vaughan
Stephen Butcher
n/k
n/k
62
832
Thursday 17th November
Michael Russell
Tim Vaughan
Stephen Butcher
n/k
n/k
63
833
Tuesday 22nd November
Michael Russell
Tim Vaughan
Stephen Butcher
n/k
n/k
64
834
Thursday 24th November
Michael Russell
Tim Vaughan
Stephen Butcher
n/k
n/k
65
835
Tuesday 29th November
Michael Russell
Tim Vaughan
Stephen Butcher
n/k
n/k
66
836
Thursday 1st December
Michael Russell
Tim Vaughan
Stephen Butcher
n/k
n/k
67
837
Tuesday 6th December
Michael Russell
Lovett Bickford
n/k
n/k
68
838
Thursday 8th December
Michael Russell
Lovett Bickford
n/k
n/k
69
839
Tuesday 13th December
Michael Russell
Lovett Bickford
n/k
n/k
70
840
Thursday 15th December
Michael Russell
Lovett Bickford
n/k
n/k
71
841
Tuesday 20th December
Michael Russell
Lovett Bickford
n/k
n/k
72
842
Thursday 22nd December
Michael Russell
Lovett Bickford
n/k
n/k
Main Cast
Edit
Storylines
Edit
to be added
Who lives where
Edit
to be added
Awards and Nominations
Edit
to be added p