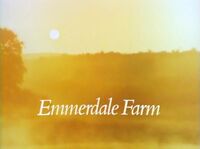 1984 was Emmerdale's 13th year. Storylines included Jack Sugden's affair with Karen Moore, the arrival of Caroline Bates at NY Estates and Jackie Merrick shooting Caroline's dog. 76 episodes were broadcast this year.
Production
Edit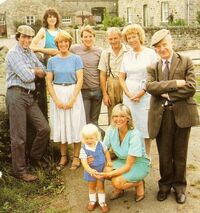 Richard Handford oversaw his first full year of production on the programme.
On 27th September, the programme lost an original cast member as Toke Townley passed away of a heart attack. Sheila Mercier appeared before the broadcast of that night's episode, Episode 894, to pay tribute to Townley. Due to advanced filming schedules however, Townley would remain onscreen as Sam Pearson until 22nd November 1984.
Behind the scenes, there would also be another notable departure as series creator and writer, Kevin Laffan, contributed his last script for the programme. Though he would remain as a show consultant going into 1985, Laffan's last episode was Episode 882 (24th May 1984). Speaking about his departure in Lance Parkin's 30 Years of Emmerdale book, Laffan would reveal that he left the show after refusing to change a script which led to conflict with production staff.
The graphic level of farming content increased this year as scenes appeared of several sheep and a cow giving birth on screen. In addition to this, there were also scenes of aborted lambs in fields. The storyline involving Jackie Merrick shooting Caroline Bates' dog, Bundle, was treated in a similar way as viewers actually saw the shooting. This particular way of telling the story saw a number of viewers write in to the show to seek assurance that the dog portraying Bundle was indeed okay and only acting - she, of course, was.
The programme was, once again, off air for its summer break over July and August.
#
Ep.
No.
Date
Writer
Director
Viewing
Figures
Chart
Position
1
843
Tuesday 10th January
Alan James
Chris Lovett
n/k
n/k
2
844
Thursday 12th January
Alan James
Chris Lovett
n/k
n/k
3
845
Tuesday 17th January
Alan James
Chris Lovett
n/k
n/k
4
846
Thursday 19th January
Alan James
Chris Lovett
n/k
n/k
5
847
Tuesday 24th January
Alan James
Chris Lovett
n/k
n/k
6
848
Thursday 26th January
Alan James
Chris Lovett
n/k
n/k
7
849
Tuesday 31st January
Bill Lyons
Mike Gibbon
n/k
n/k
8
850
Thursday 2nd February
Bill Lyons
Mike Gibbon
n/k
n/k
9
851
Tuesday 7th February
Bill Lyons
Mike Gibbon
n/k
n/k
10
852
Thursday 9th February
Bill Lyons
Mike Gibbon
n/k
n/k
11
853
Tuesday 14th February
Steve Trafford
Mike Gibbon
n/k
n/k
12
854
Thursday 16th February
Steve Trafford
Mike Gibbon
n/k
n/k
13
855
Tuesday 21st February
Steve Trafford
Mike Gibbon
n/k
n/k
14
856
Thursday 23rd February
Steve Trafford
Mike Gibbon
n/k
n/k
15
857
Tuesday 28th February
Michael Russell
Tim Vaughan
Alistair Clark
n/k
n/k
16
858
Thursday 1st March
Michael Russell
Tim Vaughan
Alistair Clark
n/k
n/k
17
859
Tuesday 6th March
Michael Russell
Alistair Clark
n/k
n/k
18
860
Thursday 8th March
Michael Russell
Alistair Clark
n/k
n/k
19
861
Tuesday 13th March
Michael Russell
Tim Vaughan
Alistair Clark
n/k
n/k
20
862
Thursday 15th March
Michael Russell
Tim Vaughan
Alistair Clark
n/k
n/k
21
863
Tuesday 20th March
Michael Russell
Tim Vaughan
Fiona Cumming
n/k
n/k
22
864
Thursday 22nd March
Michael Russell
Tim Vaughan
Fiona Cumming
n/k
n/k
23
865
Tuesday 27th March
Michael Russell
Tim Vaughan
Fiona Cumming
n/k
n/k
24
866
Thursday 29th March
Michael Russell
Tim Vaughan
Fiona Cumming
n/k
n/k
25
867
Tuesday 3rd April
Michael Russell
Fiona Cumming
n/k
n/k
26
868
Thursday 5th April
Michael Russell
Fiona Cumming
11,900,000
n/k
27
869
Tuesday 10th April
Michael Russell
Tim Vaughan
Richard Handford
n/k
n/k
28
870
Thursday 12th April
Michael Russell
Tim Vaughan
Richard Handford
11,200,000
n/k
29
871
Tuesday 17th April
Ken Blakeson
Richard Handford
10,900,000
10
30
872
Thursday 19th April
Ken Blakeson
Richard Handford
n/k
n/k
31
873
Tuesday 24th April
Ken Blakeson
Richard Handford
n/k
n/k
32
874
Thursday 26th April
Ken Blakeson
Richard Handford
n/k
n/k
33
875
Tuesday 1st May
Ken Blakeson
Richard Handford
n/k
n/k
34
876
Thursday 3rd May
Ken Blakeson
Richard Handford
n/k
n/k
35
877
Tuesday 8th May
Kevin Laffan
Mervyn Cumming
10,300,000
17
36
878
Thursday 10th May
Kevin Laffan
Mervyn Cumming
n/k
n/k
37
879
Tuesday 15th May
Kevin Laffan
Mervyn Cumming
n/k
n/k
38
880
Wednesday 16th May
Kevin Laffan
Mervyn Cumming
n/k
n/k
39
881
Tuesday 22nd May
Kevin Laffan
Mervyn Cumming
n/k
n/k
40
882
Thursday 24th May
Kevin Laffan
Mervyn Cumming
n/k
n/k
41
883
Tuesday 29th May
Simon Masters
Chris Baker
n/k
n/k
42
884
Thursday 31st May
Simon Masters
Chris Baker
n/k
n/k
43
885
Tuesday 5th June
Simon Masters
Chris Baker
10,600,000
9
44
886
Thursday 7th June
Simon Masters
Chris Baker
9,800,000
n/k
45
887
Tuesday 12th June
Simon Masters
Chris Baker
10,300,000
13
46
888
Thursday 14th June
Simon Masters
Chris Baker
n/k
n/k
47
889
Tuesday 11th September
Andrew Holden
Alistair Clark
n/k
n/k
48
890
Thursday 13th September
Andrew Holden
Alistair Clark
n/k
n/k
49
891
Tuesday 18th September
Ken Blakeson
Alistair Clark
n/k
n/k
50
892
Thursday 20th September
Ken Blakeson
Alistair Clark
n/k
n/k
51
893
Tuesday 25th September
Ken Blakeson
Alistair Clark
n/k
n/k
52
894
Thursday 27th September
Ken Blakeson
Alistair Clark
n/k
n/k
53
895
Tuesday 2nd October
Michael Russell
Fiona Cumming
n/k
n/k
54
896
Thursday 4th October
Michael Russell
Fiona Cumming
n/k
n/k
55
897
Tuesday 9th October
Michael Russell
Fiona Cumming
n/k
n/k
56
898
Thursday 11th October
Michael Russell
Fiona Cumming
n/k
n/k
57
899
Tuesday 16th October
Michael Russell
Fiona Cumming
n/k
n/k
58
900
Thursday 18th October
Michael Russell
Fiona Cumming
n/k
n/k
59
901
Tuesday 23rd October
Tim Vaughan
Richard Holthouse
n/k
n/k
60
902
Thursday 25th October
Tim Vaughan
Richard Holthouse
n/k
n/k
61
903
Tuesday 30th October
Tim Vaughan
Richard Holthouse
n/k
n/k
62
904
Thursday 1st November
Tim Vaughan
Richard Holthouse
n/k
n/k
63
905
Tuesday 6th November
Tim Vaughan
Richard Holthouse
n/k
n/k
64
906
Thursday 8th November
Tim Vaughan
Richard Holthouse
n/k
n/k
65
907
Tuesday 13th November
Hugh Miller
William Slater
n/k
n/k
66
908
Thursday 15th November
Hugh Miller
William Slater
n/k
n/k
67
909
Tuesday 20th November
Hugh Miller
William Slater
13,500,000
16
68
910
Thursday 22nd November
Hugh Miller
William Slater
n/k
n/k
69
911
Tuesday 27th November
Tim Vaughan
William Slater
13,450,000
14
70
912
Thursday 29th November
Tim Vaughan
William Slater
13,550,000
13
71
913
Tuesday 4th December
Michael Russell
Darrol Blake
14,300,000
n/k
72
914
Thursday 6th December
Michael Russell
Darrol Blake
n/k
n/k
73
915
Tuesday 11th December
Michael Russell
Darrol Blake
14,300,000
11
74
916
Thursday 13th December
Michael Russell
Darrol Blake
n/k
n/k
75
917
Tuesday 18th December
Michael Russell
Darrol Blake
14,400,000
10
76
918
Thursday 20th December
Michael Russell
Darrol Blake
n/k
n/k
Main Cast
Edit
Storylines
Edit
to be added
Who lives where
Edit
to be added
Awards and Nominations
Edit
to be added