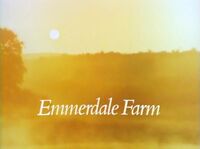 1985 was Emmerdale's 14th year. Storylines included Alan Turner running down and hospitalising Jackie Merrick and the arrival of Kathy and Nick Bates. 93 episodes were broadcast this year.
Production
Edit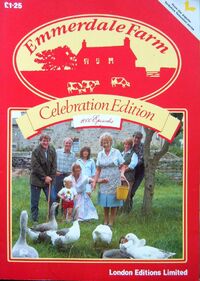 Richard Handford continued his run of producer for a second complete year.
Following the arrival of Caroline Bates the previous February, the decision was made to introduce her two children, Kathy and Nick Bates. Both would go on to remain with the programme for a considerable amount of time. Stephen Marchant was cast as Alan Turner's son, Terence. Terence would go on to have a brief relationship with Sandie Merrick before departing Beckindale. The character would return again over twenty years later, played by a different actor.
With the arrival of new BBC soap EastEnders in February, ITV made more of an effort to push Emmerdale Farm. As a result, the programme's typical summer break was shortened, remaining off air for just under a month in August - the shortest period of time since 1977. Emmerdale Farm found itself often competing with EastEnders in the 7.00pm slot in many regions of the country and consistently found itself beating the London-based soap in the direct head-to-heads. By August, the BBC moved EastEnders to the 7.30pm slot in order to avoid the competition. Following the summer break in September, all ITV regions began showing the same episode on the same day.
To prove its worth in the prime time slot, the decision was taken to increase the programme's pace and begin bigger and more topical stories. Series creator Kevin Laffan was reportedly increasingly unhappy with some of the changes, apparently objecting to the increase of sex, violence and gore within the show and was also concerned that the character of Annie Sugden was softening. In August, Laffan stepped down from the programme and made very little input thereafter. Despite his objections to the increase in sex in the show however, Jack Sugden's affair with Karen Moore seemed to prove a hit with those who tuned in, as viewing figures reached their highest in the show's run thus far. Press also began to change their opinions as reports from the likes of the Sunday People claimed that "infidelity and intrigue have transformed the once-sleepy story of Yorkshire folk into the Dynasty of the Dales".
November saw Emmerdale Farm celebrate its 1,000th episode. The event was marked with a Variety Club lunch held at the Queen's Hotel in Leeds on 7th November. HRH Princess Michael of Kent infamously attended the event, failed to recognise any of the cast and revealed she didn't actually watch the show. Onscreen, the event was covered in a tribute special - Emmerdale Farm Celebrates, hosted by Richard Whiteley.
In December, The Woolpack lost one of its best customers as Walter, portrayed by Al Dixon, made his final appearance prior to Dixon's death in 1986.
#
Ep.
No.
Date
Writer
Director
Viewing
Figures
Chart
Position
1
919
Tuesday 8th January
Andrew Holden
David Crozier
15,750,000
8
2
920
Thursday 10th January
Andrew Holden
David Crozier
n/k
n/k
3
921
Tuesday 15th January
Andrew Holden
Mervyn Cumming
16,000,000
n/k
4
922
Thursday 17th January
Andrew Holden
Mervyn Cumming
15,900,000
n/k
5
923
Tuesday 22nd January
Andrew Holden
Mervyn Cumming
15,350,000
11
6
924
Thursday 24th January
Andrew Holden
Mervyn Cumming
n/k
n/k
7
925
Tuesday 29th January
Hugh Miller
Richard Handford
n/k
n/k
8
926
Thursday 31st January
Hugh Miller
Richard Handford
14,550,000
12
9
927
Tuesday 5th February
Hugh Miller
Richard Handford
14,800,000
10
10
928
Thursday 7th February
Hugh Miller
Richard Handford
n/k
n/k
11
929
Tuesday 12th February
Hugh Miller
Richard Handford
14,850,000
12
12
930
Thursday 14th February
Hugh Miller
Richard Handford
n/k
n/k
13
931
Tuesday 19th February
Andrew Holden
Richard Handford
n/k
n/k
14
932
Thursday 21st February
Andrew Holden
Richard Handford
n/k
n/k
15
933
Tuesday 26th February
Steve Trafford
Chris Lovett
n/k
n/k
16
934
Thursday 28th February
Steve Trafford
Chris Lovett
n/k
n/k
17
935
Tuesday 5th March
Steve Trafford
Chris Lovett
n/k
n/k
18
936
Thursday 7th March
Steve Trafford
Chris Lovett
n/k
n/k
19
937
Tuesday 12th March
Steve Trafford
Chris Lovett
13,800,000
14
20
938
Thursday 14th March
Steve Trafford
Chris Lovett
13,850,000
13
21
939
Tuesday 19th March
Simon Masters
William Slater
13,800,000
15
22
940
Thursday 21st March
Simon Masters
William Slater
n/k
n/k
23
941
Tuesday 26th March
Simon Masters
William Slater
14,550,000
5
24
942
Thursday 28th March
Simon Masters
William Slater
n/k
n/k
25
943
Tuesday 2nd April
Simon Masters
William Slater
13,550,000
9
26
944
Thursday 4th April
Simon Masters
William Slater
13,800,000
8
27
945
Tuesday 9th April
Tim Vaughan
Chris Lovett
13,500,000
n/k
28
946
Thursday 11th April
Tim Vaughan
Chris Lovett
13,150,000
n/k
29
947
Tuesday 16th April
Tim Vaughan
Chris Lovett
13,400,000
6
30
948
Thursday 18th April
Tim Vaughan
Chris Lovett
13,100,000
8
31
949
Tuesday 23rd April
Tim Vaughan
Chris Lovett
13,350,000
5
32
950
Thursday 25th April
Tim Vaughan
Chris Lovett
12,850,000
9
33
951
Tuesday 30th April
Tim Vaughan
Chris Lovett
13,700,000
6
34
952
Thursday 2nd May
Tim Vaughan
Chris Lovett
13,350,000
9
35
953
Tuesday 7th May
Eric Wendell
Tony Virgo
12,850,000
7
36
954
Thursday 9th May
Eric Wendell
Tony Virgo
n/k
n/k
37
955
Tuesday 14th May
Eric Wendell
Tony Virgo
14,150,000
n/k
38
956
Thursday 16th May
Eric Wendell
Tony Virgo
12,450,000
n/k
39
957
Tuesday 21st May
Eric Wendell
Tony Virgo
13,450,000
4
40
958
Thursday 23rd May
Eric Wendell
Tony Virgo
12,350,000
8
41
959
Tuesday 28th May
Douglas Watkinson
William Slater
11,400,000
10
42
960
Thursday 30th May
Douglas Watkinson
William Slater
n/k
n/k
43
961
Tuesday 4th June
Douglas Watkinson
William Slater
11,800,000
12
44
962
Thursday 6th June
Douglas Watkinson
William Slater
12,050,000
9
45
963
Tuesday 11th June
Douglas Watkinson
William Slater
13,050,000
4
46
964
Thursday 13th June
Douglas Watkinson
William Slater
12,300,000
9
47
965
Tuesday 18th June
John Mash
Eric Wendell
William Slater
11,500,000
14
48
966
Thursday 20th June
John Mash
Eric Wendell
William Slater
11,700,000
10
49
967
Tuesday 25th June
Tim Vaughan
Fiona Cumming
n/k
n/k
50
968
Thursday 27th June
Tim Vaughan
Fiona Cumming
n/k
n/k
51
969
Tuesday 2nd July
Tim Vaughan
Fiona Cumming
10,500,000
10
52
970
Thursday 4th July
Tim Vaughan
Fiona Cumming
10,400,000
11
53
971
Tuesday 9th July
Tim Vaughan
Fiona Cumming
11,650,000
8
54
972
Thursday 11th July
Tim Vaughan
Fiona Cumming
11,550,000
9
55
973
Tuesday 16th July
Eric Wendall
Vivienne Cozens
12,100,000
7
56
974
Thursday 18th July
Eric Wendall
Vivienne Cozens
11,850,000
8
57
975
Tuesday 23rd July
Eric Wendall
Vivienne Cozens
11,900,000
6
58
976
Thursday 25th July
Eric Wendall
Vivienne Cozens
11,200,000
10
59
977
Tuesday 30th July
Andrew Holden
David Crozier
11,850,000
8
60
978
Thursday 1st August
Andrew Holden
David Crozier
11,500,000
13
61
979
Tuesday 6th August
Andrew Holden
David Crozier
12,100,000
9
62
980
Tuesday 3rd September
Michael Russell
Richard Handford
n/k
n/k
63
981
Thursday 5th September
Michael Russell
Richard Handford
n/k
n/k
64
982
Tuesday 10th September
Michael Russell
William Slater
n/k
n/k
65
983
Thursday 12th September
Michael Russell
William Slater
n/k
n/k
66
984
Tuesday 17th September
Michael Russell
William Slater
n/k
n/k
67
985
Thursday 19th September
Michael Russell
William Slater
n/k
n/k
68
986
Tuesday 24th September
Michael Russell
William Slater
n/k
n/k
69
987
Thursday 26th September
Michael Russell
William Slater
n/k
n/k
70
988
Tuesday 1st October
Michael Robartes
Fiona Cumming
n/k
n/k
71
989
Thursday 3rd October
Michael Robartes
Fiona Cumming
n/k
n/k
72
990
Tuesday 8th October
Michael Robartes
Fiona Cumming
n/k
n/k
73
991
Thursday 10th October
Michael Robartes
Fiona Cumming
n/k
n/k
74
992
Tuesday 15th October
Michael Robartes
Fiona Cumming
n/k
n/k
75
993
Thursday 17th October
Michael Robartes
Fiona Cumming
n/k
n/k
76
994
Tuesday 22nd October
Tim Vaughan
Carol Wilks
n/k
n/k
77
995
Thursday 24th October
Tim Vaughan
Carol Wilks
n/k
n/k
78
996
Tuesday 29th October
Tim Vaughan
Carol Wilks
12,200,000
14
79
997
Thursday 31st October
Tim Vaughan
Carol Wilks
n/k
n/k
80
998
Tuesday 5th November
Tim Vaughan
Carol Wilks
n/k
n/k
81
999
Thursday 7th November
Tim Vaughan
Carol Wilks
n/k
n/k
82
1000
Tuesday 12th November
Michael Russell
Tim Vaughan
Vivienne Cozens
12,600,000
18
83
1001
Thursday 14th November
Michael Russell
Tim Vaughan
Vivienne Cozens
n/k
n/k
84
1002
Tuesday 19th November
Simon Masters
Vivienne Cozens
12,850,000
n/k
85
1003
Thursday 21st November
Simon Masters
Vivienne Cozens
n/k
n/k
86
1004
Tuesday 26th November
Simon Masters
Vivienne Cozens
12,250,000
n/k
87
1005
Thursday 28th November
Simon Masters
Vivienne Cozens
n/k
n/k
88
1006
Tuesday 3rd December
Michael Russell
Gerald Blake
n/k
n/k
89
1007
Thursday 5th December
Michael Russell
Gerald Blake
n/k
n/k
90
1008
Tuesday 10th December
Michael Russell
Gerald Blake
12,500,000
n/k
91
1009
Thursday 12th December
Michael Russell
Gerald Blake
n/k
n/k
92
1010
Tuesday 17th December
Michael Russell
Gerald Blake
n/k
n/k
93
1011
Thursday 19th December
Michael Russell
Gerald Blake
n/k
n/k
Main Cast
Edit
Storylines
Edit
to be added
Who lives where
Edit
to be added
Awards and Nominations
Edit
to be added