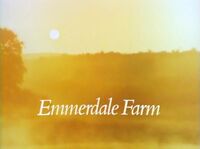 1986 was Emmerdale's 15th year. Storylines included the birth of Robert Sugden shortly before the death of his mother Pat in a car accident, Joe Sugden's relationship with Karen Moore, Matt Skilbeck's arrest following the death of Harry Mowlam, the arrival of Dolly Skilbeck's illegitimate son, Graham Lodsworth, Seth Armstrong being left for dead following an attack by badger baiters and Sandie Merrick's affair with Phil Pearce. 100 episodes were broadcast this year.
Production
Edit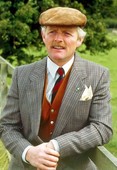 Michael Russell was appointed producer in the summer, taking over from Richard Handford with Episode 1080 (2nd September 1986). Following the decision to make changes to the programme in order to compete with the other soaps at prime time the previous year, 1986 was notable for its increase in dramatic stories.
Frazer Hines returned full time to the role of Joe Sugden in March. The character was paired with Karen Moore, whom brother Jack had begun an affair with two years previously. Their relationship wasn't to last however and ended when Annie Hulley left the serial in August. At the same time, Helen Weir bowed out after six years as Pat Sugden. In real life, Weir had married onscreen husband Clive Hornby in 1984 and upon giving birth to their son, Thomas, this year decided to quit the show in order to focus on motherhood full-time. The character was killed off in a dramatic car crash which would see Jack Sugden dealing with the consequences of his wife's death for the remainder of the year. For Pat's onscreen funeral, the decision was made to bring sister Janie back briefly for the first time since 1974. The character was now portrayed by Lesley Duff and had reverted back to her maiden name of 'Harker'.
In March, Al Dixon passed away after being taken ill with a stroke the previous September. Dixon's final episode as recurring Woolpack customer Walter had aired the previous December and the last time cast saw him was at the 1,000 episodes luncheon the previous November.
Additions to the cast for this year included Peter Alexander as Phil Pearce and Christopher Chittell as Eric Pollard. Initially, Chittell was only required to appear in a handful of episodes but found himself reappearing regularly in the show and eventually became a permanent cast member. To date, he is the longest serving actor still appearing in the show.
For the first time since 1977, Emmerdale Farm did not take a summer break and remained onscreen all year round.
#
Ep.
No.
Date
Writer
Director
Viewing
Figures
Chart
Position
1
1012
Tuesday 7th January
David Angus
Bob Hird
n/k
n/k
2
1013
Thursday 9th January
David Angus
Bob Hird
n/k
n/k
3
1014
Tuesday 14th January
Andrew Holden
Bob Hird
n/k
n/k
4
1015
Thursday 16th January
Andrew Holden
Bob Hird
n/k
n/k
5
1016
Tuesday 21st January
Eric Wendell
Bob Hird
n/k
n/k
6
1017
Thursday 23rd January
Eric Wendell
Bob Hird
n/k
n/k
7
1018
Tuesday 28th January
Eric Wendell
Bob Hird
n/k
n/k
8
1019
Thursday 30th January
Eric Wendell
Bob Hird
n/k
n/k
9
1020
Tuesday 4th February
Eric Wendell
Darrol Blake
n/k
n/k
10
1021
Thursday 6th February
Jim Hawkins
Darrol Blake
n/k
n/k
11
1022
Tuesday 11th February
Eric Wendell
Darrol Blake
n/k
n/k
12
1023
Thursday 13th February
Tim Vaughan
Darrol Blake
n/k
n/k
13
1024
Tuesday 18th February
Tim Vaughan
Darrol Blake
n/k
n/k
14
1025
Thursday 20th February
Tim Vaughan
Darrol Blake
n/k
n/k
15
1026
Tuesday 25th February
David Angus
Richard Handford
13,750,000
9
16
1027
Thursday 27th February
David Angus
Richard Handford
n/k
n/k
17
1028
Tuesday 4th March
David Angus
Richard Handford
13,500,000
10
18
1029
Thursday 6th March
David Angus
Richard Handford
n/k
n/k
19
1030
Tuesday 11th March
Eric Wendall
Richard Handford
n/k
n/k
20
1031
Thursday 13th March
Eric Wendall
Richard Handford
n/k
n/k
21
1032
Tuesday 18th March
Eric Wendall
Richard Handford
12,900,000
n/k
22
1033
Thursday 20th March
Eric Wendall
Richard Handford
n/k
n/k
23
1034
Tuesday 25th March
Tim Vaughan
Richard Holthouse
13,200,000
15
24
1035
Thursday 27th March
Tim Vaughan
Richard Holthouse
n/k
n/k
25
1036
Tuesday 1st April
Tim Vaughan
Richard Holthouse
n/k
n/k
26
1037
Thursday 3rd April
Tim Vaughan
Richard Holthouse
n/k
n/k
27
1038
Tuesday 8th April
Tim Vaughan
Richard Holthouse
13,600,000
9
28
1039
Thursday 10th April
Tim Vaughan
Richard Holthouse
n/k
n/k
29
1040
Tuesday 15th April
Michael Russell
William Slater
12,600,000
15
30
1041
Thursday 17th April
Michael Russell
William Slater
n/k
n/k
31
1042
Tuesday 22nd April
Michael Russell
William Slater
11,500,000
13
32
1043
Thursday 24th April
Michael Russell
William Slater
n/k
n/k
33
1044
Tuesday 29th April
Allan Swift
William Slater
11,200,000
15
34
1045
Thursday 1st May
Allan Swift
William Slater
n/k
n/k
35
1046
Tuesday 6th May
Allan Swift
William Slater
11,150,000
13
36
1047
Thursday 8th May
Allan Swift
William Slater
10,300,000
19
37
1048
Tuesday 13th May
Roy Russell
Richard Standeven
10,850,000
13
38
1049
Thursday 15th May
Roy Russell
Richard Standeven
n/k
n/k
39
1050
Tuesday 20th May
Roy Russell
Richard Standeven
n/k
n/k
40
1051
Thursday 22nd May
Roy Russell
Richard Standeven
n/k
n/k
41
1052
Tuesday 27th May
Roy Russell
Richard Standeven
n/k
n/k
42
1053
Thursday 29th May
Roy Russell
Richard Standeven
n/k
n/k
43
1054
Tuesday 3rd June
Steve Trafford
Keith Washington
10,500,000
n/k
44
1055
Thursday 5th June
Steve Trafford
Keith Washington
n/k
n/k
45
1056
Tuesday 10th June
Steve Trafford
Keith Washington
n/k
n/k
46
1057
Thursday 12th June
Steve Trafford
Keith Washington
11,500,000
6
47
1058
Tuesday 17th June
Steve Trafford
Keith Washington
n/k
n/k
48
1059
Thursday 19th June
Steve Trafford
Keith Washington
n/k
n/k
49
1060
Tuesday 24th June
Jack Lewis
Mervyn Cumming
n/k
n/k
50
1061
Thursday 26th June
Jack Lewis
Mervyn Cumming
n/k
n/k
51
1062
Tuesday 1st July
David Angus
Mervyn Cumming
n/k
n/k
52
1063
Thursday 3rd July
David Angus
Mervyn Cumming
n/k
n/k
53
1064
Tuesday 8th July
David Angus
Mervyn Cumming
10,150,000
10
54
1065
Thursday 10th July
David Angus
Mervyn Cumming
n/k
n/k
55
1066
Tuesday 15th July
Ginnie Hole
Vivienne Cozens
n/k
n/k
56
1067
Thursday 17th July
Ginnie Hole
Vivienne Cozens
n/k
n/k
57
1068
Tuesday 22nd July
Jack Lewis
Vivienne Cozens
n/k
n/k
58
1069
Thursday 24th July
Jack Lewis
Vivienne Cozens
n/k
n/k
59
1070
Tuesday 29th July
Jack Lewis
Vivienne Cozens
n/k
n/k
60
1071
Thursday 31st July
Jack Lewis
Vivienne Cozens
n/k
n/k
61
1072
Tuesday 5th August
Eric Wendell
Richard Handford
10,650,000
8
62
1073
Thursday 7th August
Eric Wendell
Richard Handford
n/k
n/k
63
1074
Tuesday 12th August
Eric Wendell
Richard Handford
n/k
n/k
64
1075
Thursday 14th August
Eric Wendell
Richard Handford
n/k
n/k
65
1076
Tuesday 19th August
Eric Wendell
Richard Handford
10,550,000
n/k
66
1077
Thursday 21st August
Eric Wendell
Richard Handford
n/k
n/k
67
1078
Tuesday 26th August
Eric Wendell
Richard Handford
11,650,000
n/k
68
1079
Thursday 28th August
Eric Wendell
Richard Handford
n/k
n/k
69
1080
Tuesday 2nd September
Ken Blakeson
Bob Hird
n/k
n/k
70
1081
Thursday 4th September
Ken Blakeson
Bob Hird
n/k
n/k
71
1082
Tuesday 9th September
Ken Blakeson
Bob Hird
n/k
n/k
72
1083
Thursday 11th September
Ken Blakeson
Bob Hird
n/k
n/k
73
1084
Tuesday 16th September
Ken Blakeson
Bob Hird
n/k
n/k
74
1085
Thursday 18th September
Ken Blakeson
Bob Hird
n/k
n/k
75
1086
Tuesday 23rd September
James Robson
Bob Hird
n/k
n/k
76
1087
Thursday 25th September
James Robson
Bob Hird
n/k
n/k
77
1088
Tuesday 30th September
James Robson
Darrol Blake
n/k
n/k
78
1089
Thursday 2nd October
James Robson
Darrol Blake
n/k
n/k
79
1090
Tuesday 7th October
James Robson
Darrol Blake
n/k
n/k
80
1091
Thursday 9th October
James Robson
Darrol Blake
n/k
n/k
81
1092
Tuesday 14th October
James Robson
Darrol Blake
n/k
n/k
82
1093
Thursday 16th October
James Robson
Darrol Blake
n/k
n/k
83
1094
Tuesday 21st October
Tim Vaughan
Mervyn Cumming
n/k
n/k
84
1095
Thursday 23rd October
Tim Vaughan
Mervyn Cumming
n/k
n/k
85
1096
Tuesday 28th October
Tim Vaughan
Mervyn Cumming
n/k
n/k
86
1097
Thursday 30th October
Tim Vaughan
Mervyn Cumming
n/k
n/k
87
1098
Tuesday 4th November
Tim Vaughan
Mervyn Cumming
n/k
n/k
88
1099
Thursday 6th November
Tim Vaughan
Mervyn Cumming
n/k
n/k
89
1100
Tuesday 11th November
Jackie Newey
William Slater
n/k
n/k
90
1101
Thursday 13th November
Jackie Newey
William Slater
n/k
n/k
91
1102
Tuesday 18th November
Jackie Newey
William Slater
n/k
n/k
92
1103
Tuesday 20th November
Charles Hodges
William Slater
n/k
n/k
93
1104
Thursday 25th November
Charles Hodges
William Slater
n/k
n/k
94
1105
Thursday 27th November
Charles Hodges
William Slater
n/k
n/k
95
1106
Tuesday 2nd December
Michael Russell
Bob Hird
n/k
n/k
96
1107
Thursday 4th December
Michael Russell
Bob Hird
n/k
n/k
97
1108
Tuesday 9th December
Michael Russell
Bob Hird
n/k
n/k
98
1109
Thursday 11th December
Michael Russell
Bob Hird
n/k
n/k
99
1110
Tuesday 16th December
Michael Russell
Bob Hird
n/k
n/k
100
1111
Thursday 18th December
Michael Russell
Bob Hird
n/k
n/k
Main Cast
Edit
Storylines
Edit
to be added
Who lives where
Edit
to be added
Awards and Nominations
Edit
to be added