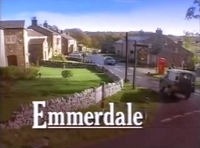 2004 was Emmerdale's 33rd year. Production was overseen by Executive Producer Keith Richardson and Series Producer Steve Frost.
308 episodes were broadcast. Storylines included the death of Tricia Dingle and her husband Marlon's struggle to come to terms with it, the wedding of Andy Sugden and Katie Addyman resulting in the exposing of her affair with Andy's brother Robert and the unintentional shooting of the brothers' father Jack, the wedding of Jack Sugden and Diane Blackstock. Pearl Ladderbanks' son Frank Bernard Hartbourne, a former rapist, arrived in the village and was poorly treated by the villagers. The year also saw the arrivals of the King family and Diane Blackstock's sister Val Lambert.
Departures for the year included Tricia Dingle's death after she was critically injured in the storm that opened the year, Paul Marsden's death after falling off scaffolding outside his house and his widow Siobhan leaving the village never knowing the true circumstances of her husband's demise and also after Matthew King refused to let her rent.
#
No.
Date
Part
Writer
Director
Viewing
Figures
Chart
Position
1
3623/
3624
Thursday 1st January 2004
Stephen Bennett
Tony Prescott
11,187,000
10
2
3625
Friday 2nd January 2004
Mark Illis
Tony Prescott
11,760,000
9
3
3626
Sunday 4th January 2004
Paul Quiney
Alan Wareing
9,764,000
18
4
3627
Monday 5th January 2004
Lisa Holdsworth
Alan Wareing
11,459,000
10
5
3628
Tuesday 6th January 2004
Andrew Kirk
Alan Wareing
6
3629
Wednesday 7th January 2004
Andrew Kirk
Alan Wareing
7
3630
Thursday 8th January 2004
Stephen Bennett
Alan Wareing
10,695,000
12
8
3631
Friday 9th January 2004
Stephen Bennett
Alan Wareing
10,340,000
14
9
3632
Sunday 11th January 2004
Bill Lyons
Tracey Rooney
8,725,000
19
10
3633
Monday 12th January 2004
Christine Murphy
Tracey Rooney
10,977,000
10
11
3634
Tuesday 13th January 2004
Christine Murphy
Tracey Rooney
10,371,000
14
12
3635
Wednesday 14th January 2004
Sarah Bagshaw
Tracey Rooney
10,630,000
12
13
3636
Thursday 15th January 2004
Sarah Bagshaw
Tracey Rooney
10,870,000
11
14
3637
Friday 16th January 2004
Matthew Westwood
Tracey Rooney
10,452,000
13
15
3638
Sunday 18th January 2004
Mark Illis
Daniel Wilson
9,506,000
18
16
3639
Monday 19th January 2004
Mark Illis
Daniel Wilson
10,789,000
11
17
3640
Tuesday 20th January 2004
Margaret Simpson
Daniel Wilson
10,319,000
14
18
3641
Wednesday 21st January 2004
Margaret Simpson
Daniel Wilson
10,619,000
12
19
3642
Thursday 22nd January 2004
Janys Chambers
Daniel Wilson
10,912,000
10
20
3643
Friday 23rd January 2004
Janys Chambers
Daniel Wilson
10,319,000
14
21
3644
Sunday 25th January 2004
Andrew Kirk
Philip Wood
8,956,000
18
22
3645
Monday 26th January 2004
Chris Thompson
Philip Wood
11,216,000
12
23
3646
Tuesday 27th January 2004
Chris Thompson
Philip Wood
10,699,000
16
24
3647
Wednesday 28th January 2004
Holly Lyons
Philip Wood
11,498,000
11
25
3648
Thursday 29th January 2004
Lesley Clare O'Neill
Philip Wood
10,158,000
21
26
3649
Friday 30th January 2004
Lesley Clare O'Neill
Philip Wood
27
3650
Sunday 1st February 2004
Janys Chambers
Pip Short
9,559,000
24
28
3651
Monday 2nd February 2004
Karin Young
Pip Short
11,007,000
14
29
3652
Tuesday 3rd February 2004
Karin Young
Pip Short
10,480,000
18
30
3653
Wednesday 4th February 2004
Holly Lyons
Pip Short
31
3654
Thursday 5th February 2004
Stephen Bennett
Pip Short
10,413,000
20
32
3655
Friday 6th February 2004
Stephen Bennett
Pip Short
10,456,000
19
33
3656
Sunday 8th February 2004
Bill Lyons
Henry Foster
34
3657
Monday 9th February 2004
Bill Lyons
Henry Foster
11,208,000
11
35
3658
Tuesday 10th February 2004
Peter Kerry
Henry Foster
36
3659
Wednesday 11th February 2004
Peter Kerry
Henry Foster
37
3660
Thursday 12th February 2004
Tim Dynevor
Henry Foster
38
3661
Friday 13th February 2004
Tim Dynevor
Henry Foster
39
3662
Sunday 15th February 2004
Lisa Holdsworth
Alan Wareing
40
3663
Monday 16th February 2004
Sarah Bagshaw
Alan Wareing
11,442,000
11
41
3664
Tuesday 17th February 2004
Chris Thompson
Alan Wareing
10,621,000
15
42
3665
Wednesday 18th February 2004
Chris Thompson
Alan Wareing
10,712,000
13
43
3666
Thursday 19th February 2004
Paul Quiney
Alan Wareing
10,676,000
14
44
3667
Friday 20th February 2004
Bill Taylor
Alan Wareing
10,331,000
17
45
3668
Sunday 22nd February 2004
Bill Taylor
Christiana Ebohon
8,851,000
19
46
3669
Monday 23rd February 2004
Lesley Clare O'Neill
Christiana Ebohon
11,123,000
10
47
3670
Tuesday 24th February 2004
Lesley Clare O'Neill
Christiana Ebohon
11,027,000
11
48
3671
Wednesday 25th February 2004
Matthew Westwood
Christiana Ebohon
10,847,000
12
49
3672
Thursday 26th February 2004
Margaret Simpson
Christiana Ebohon
10,782,000
13
50
3673
Friday 27th February 2004
Christine Murphy
Christiana Ebohon
51
3674
Sunday 29th February 2004
Bill Lyons
Christiana Ebohon
9,501,000
19
52
3675
Monday 1st March 2004
Janys Chambers
Daniel Wilson
10,843,000
10
53
3676
Tuesday 2nd March 2004
Janys Chambers
Daniel Wilson
54
3677
Wednesday 3rd March 2004
Holly Lyons
Daniel Wilson
55
3678
Thursday 4th March 2004
Bill Taylor
Daniel Wilson
10,158,000
12
56
3679
Friday 5th March 2004
Bill Taylor
Daniel Wilson
9,898,000
15
57
3680
Sunday 7th March 2004
Andrew Kirk
Haldane Duncan
8,886,000
19
58
3681
Monday 8th March 2004
Margaret Simpson
Haldane Duncan
10,528,000
10
59
3682
Tuesday 9th March 2004
Margaret Simpson
Haldane Duncan
9,883,000
14
60
3683
Wednesday 10th March 2004
Karin Young
Haldane Duncan
61
3684
Thursday 11th March 2004
Matthew Westwood
Haldane Duncan
10,368,000
11
62
3685
Friday 12th March 2004
Matthew Westwood
Haldane Duncan
9,839,000
15
63
3686
Sunday 14th March 2004
Christine Murphy
Oliver Horsbrugh
8,691,000
20
64
3687
Monday 15th March 2004
Christine Murphy
Oliver Horsbrugh
10,604,000
10
65
3688
Tuesday 16th March 2004
Lesley Clare O'Neill
Oliver Horsbrugh
9,890,000
12
66
3689
Wednesday 17th March 2004
Lesley Clare O'Neill
Oliver Horsbrugh
9,728,000
14
67
3690
Thursday 18th March 2004
Mark Illis
Oliver Horsbrugh
68
3691
Friday 19th March 2004
Chris Thompson
Oliver Horsbrugh
9,220,000
16
69
3692
Sunday 21st March 2004
Stephen Bennett
Henry Foster
8,853,000
18
70
3693
Monday 22nd March 2004
Stephen Bennett
Henry Foster
71
3694
Tuesday 23rd March 2004
Tim Dynevor
Henry Foster
10,120,000
14
72
3695
Wednesday 24th March 2004
Tim Dynevor
Henry Foster
73
3696
Thursday 25th March 2004
Lisa Holdsworth
Henry Foster
74
3697
Friday 26th March 2004
Peter Kerry
Henry Foster
75
3698
Sunday 28th March 2004
Janys Chambers
Alan Wareing
7,811,000
21
76
3699
Monday 29th March 2004
Janys Chambers
Alan Wareing
77
3700
Tuesday 30th March 2004
Peter Kerry
Alan Wareing
78
3701
Wednesday 31st March 2004
Peter Kerry
Alan Wareing
9,550,000
12
79
3702
Thursday 1st April 2004
Bill Lyons
Alan Wareing
9,518,000
13
80
3703
Friday 2nd April 2004
Bill Lyons
Alan Wareing
81
3704
Sunday 4th April 2004
Lesley Clare O'Neill
Di Patrick
8,212,000
19
82
3705
Monday 5th April 2004
Lesley Clare O'Neill
Di Patrick
83
3706
Tuesday 6th April 2004
Stephen Bennett
Di Patrick
84
3707
Wednesday 7th April 2004
Stephen Bennett
Di Patrick
9,057,000
12
85
3708
Thursday 8th April 2004
Lisa Holdsworth
Di Patrick
8,593,000
14
86
3709
Friday 9th April 2004
Paul Quiney
Di Patrick
8,248,000
16
87
3710
Sunday 11th April 2004
Christine Murphy
Haldane Duncan
7,595,000
19
88
3711
Monday 12th April 2004
Matthew Westwood
Haldane Duncan
8,474,000
16
89
3712
Tuesday 13th April 2004
Bill Taylor
Haldane Duncan
8,975,000
12
90
3713
Wednesday 14th April 2004
Chris Thompson
Haldane Duncan
8,469,000
17
91
3714
Thursday 15th April 2004
Chris Thompson
Haldane Duncan
92
3715
Friday 16th April 2004
Mark Illis
Haldane Duncan
8,832,000
13
93
3716
Sunday 18th April 2004
Mark Illis
Duncan Foster
8,736,000
14
94
3717
Monday 19th April 2004
Andrew Kirk
Duncan Foster
9,165,000
12
95
3718
Tuesday 20th April 2004
Sarah Bagshaw
Duncan Foster
9,718,000
11
96
3719
Wednesday 21st April 2004
Sarah Bagshaw
Duncan Foster
10,214,000
10
97
3720
Thursday 22nd April 2004
Tim Dynevor
Duncan Foster
8,762,000
14
98
3721
Friday 23rd April 2004
Tim Dynevor
Duncan Foster
8,417,000
15
99
3722
Sunday 25th April 2004
Sebastian Secker Walker
Oliver Horsbrugh
100
3723
Monday 26th April 2004
Matthew Westwood
Oliver Horsbrugh
101
3724
Tuesday 27th April 2004
Matthew Westwood
Oliver Horsbrugh
8,982,000
15
102
3725
Wednesday 28th April 2004
Peter Kerry
Oliver Horsbrugh
9,320,000
11
103
3726
Thursday 29th April 2004
Paul Quiney
Oliver Horsbrugh
9,150,000
13
104
3727
Friday 30th April 2004
Janys Chambers
Oliver Horsbrugh
8,678,000
16
105
3728
Sunday 2nd May 2004
Janys Chambers
Henry Foster
7,507,000
20
106
3729
Monday 3rd May 2004
Lisa Holdsworth
Henry Foster
8,928,000
12
107
3730
Tuesday 4th May 2004
Chris Thompson
Henry Foster
9,228,000
10
108
3731
Wednesday 5th May 2004
Chris Thompson
Henry Foster
9,587,000
9
109
3732
Thursday 6th May 2004
Sarah Bagshaw
Henry Foster
9,129,000
11
110
3733
Friday 7th May 2004
Sarah Bagshaw
Henry Foster
8,776,000
13
111
3734
Sunday 9th May 2004
Christine Murphy
Mike Adams
7,434,000
20
112
3735
Monday 10th May 2004
Karin Young
Mike Adams
9,236,000
11
113
3736
Tuesday 11th May 2004
Karin Young
Mike Adams
9,266,000
10
114
3737
Wednesday 12th May 2004
Lesley Clare O'Neill
Mike Adams
8,372,000
16
115
3738
Thursday 13th May 2004
Stephen Bennett
Mike Adams
8,682,000
14
116
3739
Friday 14th May 2004
Stephen Bennett
Mike Adams
7,955,000
17
117
3740
Sunday 16th May 2004
Bill Taylor
Diana Patrick
6,453,000
23
118
3741
Monday 17th May 2004
Bill Taylor
Diana Patrick
8,614,000
10
119
3742/
3743
Tuesday 18th May 2004
Tim Dynevor
Diana Patrick
8,267,000
12
120
3744
Wednesday 19th May 2004
Margaret Simpson
Diana Patrick
8,459,000
11
121
3745
Thursday 20th May 2004
Bill Lyons
Diana Patrick
122
3746
Friday 21st May 2004
Peter Kerry
Duncan Foster
8,184,000
13
123
3747
Sunday 23rd May 2004
Stephen Bennett
Duncan Foster
6,400,000
24
124
3748
Monday 24th May 2004
Stephen Bennett
Duncan Foster
9,114,000
12
125
3749/
3750
Tuesday 25th May 2004
Sarah Bagshaw
Duncan Foster
7,744,000
19
126
3751
Wednesday 26th May 2004
Bill Lyons
Duncan Foster
8,923,000
13
127
3752
Thursday 27th May 2004
Bill Lyons
Pip Short
8,261,000
16
128
3753
Friday 28th May 2004
Lesley Clare O'Neill
Pip Short
8,356,000
15
129
3754
Sunday 30th May 2004
Janys Chambers
Pip Short
6,318,000
24
130
3755
Monday 31st May 2004
Janys Chambers
Pip Short
8,438,000
14
131
3756/
3757
Tuesday 1st June 2004
Matthew Westwood
Pip Short
7,745,000
20
132
3758
Wednesday 2nd June 2004
Andrew Kirk
Tracey Rooney
133
3759
Thursday 3rd June 2004
Paul Quiney
Tracey Rooney
8,942,000
12
134
3760
Friday 4th June 2004
Karin Young
Tracey Rooney
8,100,000
16
135
3761
Sunday 6th June 2004
Karin Young
Tracey Rooney
6,009,000
27
136
3762
Monday 7th June 2004
Tim Dynevor
Tracey Rooney
8,193,000
11
137
3763
Tuesday 8th June 2004
Tim Dynevor
Tracey Rooney
138
3764
Wednesday 9th June 2004
Chris Thompson
Tim O'Mara
139
3765
Thursday 10th June 2004
Chris Thompson
Tim O'Mara
140
3766
Friday 11th June 2004
Margaret Simpson
Tim O'Mara
141
3767
Tuesday 15th June 2004
Margaret Simpson
Tim O'Mara
142
3768
Wednesday 16th June 2004
Lisa Holdsworth
Tim O'Mara
143
3769
Thursday 17th June 2004
Bill Lyons
Tim O'Mara
144
3770
Friday 18th June 2004
Janys Chambers
Tim O'Mara
7,907,000
11
145
3771
Monday 21st June 2004
Janys Chambers
Brian Morgan
6,875,000
23
146
3772
Tuesday 22nd June 2004
Chris Thompson
Brian Morgan
147
3773
Wednesday 23rd June 2004
Chris Thompson
Brian Morgan
9,312,000
9
148
3774
Thursday 24th June 2004
Margaret Simpson
Brian Morgan
6,438,000
26
149
3775
Friday 25th June 2004
Tim Dynevor
Brian Morgan
150
3776
Sunday 27th June 2004
Caroline Mitchell
Henry Foster
151
3777
Monday 28th June 2004
Karin Young
Henry Foster
7,708,000
20
152
3778
Tuesday 29th June 2004
Matthew Westwood
Henry Foster
153
3779
Wednesday 30th June 2004
Bill Lyons
Henry Foster
8,402,000
13
154
3780
Thursday 1st July 2004
Bill Taylor
Henry Foster
7,665,000
22
155
3781
Friday 2nd July 2004
Bill Taylor
Henry Foster
8,067,000
9
156
3782
Monday 5th July 2004
Lisa Holdsworth
Duncan Foster
157
3783/
3784
Tuesday 6th July 2004
Stephen Bennett
Duncan Foster
7,311,000
16
158
3785
Wednesday 7th July 2004
Sarah Bagshaw
Duncan Foster
159
3786
Thursday 8th July 2004
Sarah Bagshaw
Duncan Foster
8,869,000
9
160
3787
Friday 9th July 2004
Andrew Kirk
Duncan Foster
7,938,000
14
161
3788
Sunday 11th July 2004
Christine Murphy
Pip Short
6,991,000
18
162
3789
Monday 12th July 2004
Bill Lyons
Pip Short
8,875,000
10
163
3790
Tuesday 13th July 2004
Peter Kerry
Pip Short
8,105,000
15
164
3791
Wednesday 14th July 2004
Bill Taylor
Pip Short
8,457,000
11
165
3792
Thursday 15th July 2004
Mark Illis
Pip Short
166
3793
Friday 16th July 2004
Mark Illis
Pip Short
167
3794
Sunday 18th July 2004
Andrew Kirk
Tracey Rooney
168
3795
Monday 19th July 2004
Holly Lyons
Tracey Rooney
169
3796
Tuesday 20th July 2004
Janys Chambers
Tracey Rooney
170
3797
Wednesday 21st July 2004
Janys Chambers
Tracey Rooney
8,136,000
14
171
3798
Thursday 22nd July 2004
Lesley Clare O'Neill
Tracey Rooney
8,570,000
13
172
3799
Friday 23rd July 2004
Sarah Bagshaw
Tracey Rooney
173
3800
Sunday 25th July 2004
Stephen Bennett
Tony Prescott
174
3801
Monday 26th July 2004
Lisa Holdsworth
Tony Prescott
175
3802
Tuesday 27th July 2004
Caroline Mitchell
Tony Prescott
176
3803
Wednesday 28th July 2004
Margaret Simpson
Tony Prescott
177
3804
Thursday 29th July 2004
Chris Thompson
Tony Prescott
178
3805
Friday 30th July 2004
Chris Thompson
Tony Prescott
179
3806
Sunday 1st August 2004
Bill Lyons
Oliver Horsbrugh
5,708,000
27
180
3807
Monday 2nd August 2004
Bill Lyons
Oliver Horsbrugh
8,221,000
14
181
3808
Tuesday 3rd August 2004
Lisa Holdsworth
Oliver Horsbrugh
182
3809
Wednesday 4th August 2004
Sarah Bagshaw
Oliver Horsbrugh
183
3810
Thursday 5th August 2004
Mark Illis
Oliver Horsbrugh
8,221,000
14
184
3811
Friday 6th August 2004
Tim Dynevor
Oliver Horsbrugh
185
3812
Sunday 8th August 2004
Margaret Simpson
Brian Morgan
186
3813
Monday 9th August 2004
Margaret Simpson
Brian Morgan
8,869,000
9
187
3814
Tuesday 10th August 2004
Stephen Bennett
Brian Morgan
188
3815
Wednesday 11th August 2004
Holly Lyons
Brian Morgan
7,898,000
16
189
3816
Thursday 12th August 2004
Lindsay Williams
Brian Morgan
8,484,000
13
190
3817
Friday 13th August 2004
Peter Kerry
Brian Morgan
7,046,000
18
191
3818
Sunday 15th August 2004
Bill Taylor
Henry Foster
192
3819
Monday 16th August 2004
Paul Quiney
Henry Foster
193
3820
Tuesday 17th August 2004
Lesley Clare O'Neill
Henry Foster
8,413,000
11
194
3821
Wednesday 18th August 2004
Caroline Mitchell
Henry Foster
7,879,000
16
195
3822
Thursday 19th August 2004
Karin Young
Henry Foster
8,047,000
15
196
3823
Friday 20th August 2004
Karin Young
Henry Foster
8,092,000
14
197
3824
Sunday 22nd August 2004
Bill Taylor
Haldane Duncan
198
3825
Monday 23rd August 2004
Stephen Bennett
Haldane Duncan
199
3826
Tuesday 24th August 2004
Stephen Bennett
Haldane Duncan
200
3827
Wednesday 25th August 2004
Christine Murphy
Haldane Duncan
201
3828
Thursday 26th August 2004
Lesley Clare O'Neill
Haldane Duncan
7,710,000
14
202
3829
Friday 27th August 2004
Janys Chambers
Haldane Duncan
6,909,000
20
203
3830
Sunday 29th August 2004
Lindsay Williams
Pip Short
6,184,000
25
204
3831
Monday 30th August 2004
Chris Thompson
Pip Short
8,401,000
14
205
3832
Tuesday 31st August 2004
Tim Dynevor
Pip Short
8,276,000
17
206
3833
Wednesday 1st September 2004
Tim Dynevor
Pip Short
8,311,000
16
207
3834
Thursday 2nd September 2004
Sarah Bagshaw
Pip Short
8,606,000
13
208
3835
Friday 3rd September 2004
Andrew Kirk
Pip Short
7,919,000
18
209
3836
Sunday 5th September 2004
Margaret Simpson
Tim O'Mara
6,328,000
28
210
3837
Monday 6th September 2004
Mark Illis
Tim O'Mara
211
3838
Tuesday 7th September 2004
Peter Kerry
Tim O'Mara
212
3839
Wednesday 8th September 2004
Bill Lyons
Tim O'Mara
7,877,000
18
213
3840
Thursday 9th September 2004
Bill Lyons
Tim O'Mara
8,094,000
15
214
3841
Friday 10th September 2004
Paul Quiney
Tim O'Mara
7,973,000
16
215
3842
Sunday 12th September 2004
Paul Quiney
Tony Prescott
216
3843
Monday 13th September 2004
Tim Dynevor
Tony Prescott
9,091,000
10
217
3844
Tuesday 14th September 2004
Andrew Kirk
Tony Prescott
8,377,000
14
218
3845
Wednesday 15th September 2004
Caroline Mitchell
Tony Prescott
219
3846
Thursday 16th September 2004
Stephen Bennett
Tony Prescott
220
3847
Friday 17th September 2004
Stephen Bennett
Tony Prescott
221
3848
Monday 20th September 2004
Lesley Clare O'Neill
Oliver Horsbrugh
9,216,000
10
222
3849/
3850
Tuesday 21st September 2004
Karin Young
Oliver Horsbrugh
8,722,000
13
223
3851
Wednesday 22nd September 2004
Chris Thompson
Oliver Horsbrugh
8,706,000
14
224
3852
Thursday 23rd September 2004
Chris Thompson
Oliver Horsbrugh
8,913,000
12
225
3853
Friday 24th September 2004
Margaret Simpson
Oliver Horsbrugh
8,488,000
16
226
3854
Sunday 26th September 2004
Mark Illis
Tracey Rooney
227
3855
Monday 27th September 2004
Mark Illis
Tracey Rooney
9,539,000
10
228
3856
Tuesday 28th September 2004
Bill Lyons
Tracey Rooney
8,715,000
17
229
3857
Wednesday 29th September 2004
Bill Lyons
Tracey Rooney
8,920,000
15
230
3858
Thursday 30th September 2004
Peter Kerry
Tracey Rooney
9,386,000
12
231
3859
Friday 1st October 2004
Janys Chambers
Tracey Rooney
232
3860
Sunday 3rd October 2004
Janys Chambers
Haldane Duncan
233
3861
Monday 4th October 2004
Lisa Holdsworth
Haldane Duncan
234
3862
Tuesday 5th October 2004
Lisa Holdsworth
Haldane Duncan
235
3863
Wednesday 6th October 2004
Chris Thompson
Haldane Duncan
9,123,000
12
236
3864
Thursday 7th October 2004
Chris Thompson
Haldane Duncan
237
3865
Friday 8th October 2004
Tim Dynevor
Haldane Duncan
8,755,000
16
238
3866
Sunday 10th October 2004
Marc Pierson
Mark McKillop
239
3867
Monday 11th October 2004
Stephen Bennett
Mark McKillop
9,672,000
11
240
3868
Tuesday 12th October 2004
Stephen Bennett
Pip Short
241
3869
Wednesday 13th October 2004
Bill Lyons
Pip Short
242
3870
Thursday 14th October 2004
Lesley Clare O'Neill
Pip Short
9,649,000
12
243
3871
Friday 15th October 2004
Andrew Kirk
Pip Short
244
3872
Sunday 17th October 2004
Christine Murphy
Alan Wareing
245
3873
Monday 18th October 2004
Lindsay Williams
Alan Wareing
9,917,000
9
246
3874
Tuesday 19th October 2004
Peter Kerry
Alan Wareing
9,341,000
11
247
3875
Wednesday 20th October 2004
Peter Kerry
Alan Wareing
9,540,000
10
248
3876
Thursday 21st October 2004
1
Caroline Mitchell
Alan Wareing
9,176,000
13
249
3877
Thursday 21st October 2004
2
Caroline Mitchell
Alan Wareing
8,968,000
15
250
3878
Friday 22nd October 2004
Margaret Simpson
Tony Prescott
9,282,000
12
251
3879
Monday 25th October 2004
Mark Illis
Tony Prescott
10,613,000
10
252
3880
Tuesday 26th October 2004
Stephen Bennett
Tony Prescott
253
3881
Wednesday 27th October 2004
Stephen Bennett
Tony Prescott
9,881,000
11
254
3882
Thursday 28th October 2004
Janys Chambers
Tony Prescott
255
3883
Friday 29th October 2004
Lisa Holdsworth
Tony Prescott
256
3884
Sunday 31st October 2004
Sarah Bagshaw
Tim O'Mara
7,575,000
21
257
3885
Monday 1st November 2004
Sarah Bagshaw
Tim O'Mara
258
3886
Tuesday 2nd November 2004
Caroline Mitchell
Tim O'Mara
259
3887
Wednesday 3rd November 2004
Lindsay Williams
Tim O'Mara
260
3888
Thursday 4th November 2004
Karin Young
Tim O'Mara
261
3889
Friday 5th November 2004
Tim Dynevor
Tim O'Mara
262
3890
Sunday 7th November 2004
Chris Thompson
Tracey Rooney
263
3891
Monday 8th November 2004
Bill Taylor
Tracey Rooney
264
3892
Tuesday 9th November 2004
Bill Taylor
Tracey Rooney
265
3893
Wednesday 10th November 2004
Marc Peirson
Tracey Rooney
266
3894
Thursday 11th November 2004
Bill Lyons
Tracey Rooney
267
3895
Friday 12th November 2004
Bill Lyons
Tracey Rooney
10,002,000
13
268
3896
Sunday 14th November 2004
Bill Lyons
Haldane Duncan
269
3897
Monday 15th November 2004
Marc Peirson
Haldane Duncan
270
3898
Tuesday 16th November 2004
Lesley Clare O'Neill
Haldane Duncan
10,371,000
11
271
3899
Wednesday 17th November 2004
Lesley Clare O'Neill
Haldane Duncan
272
3900
Thursday 18th November 2004
Caroline Mitchell
Haldane Duncan
10,842,000
10
273
3901
Friday 19th November 2004
Caroline Mitchell
Haldane Duncan
9,082,000
16
274
3902
Sunday 21st November 2004
Mark Illis
Henry Foster
8,750,000
17
275
3903
Monday 22nd November 2004
Janys Chambers
Henry Foster
276
3904
Tuesday 23rd November 2004
Janys Chambers
Haldane Duncan
277
3905
Wednesday 24th November 2004
Sarah Bagshaw
Henry Foster
9,882,000
16
278
3906
Thursday 25th November 2004
Sarah Bagshaw
Henry Foster
9,758,000
17
279
3907
Friday 26th November 2004
Lindsay Williams
Henry Foster
280
3908
Sunday 28th November 2004
Bill Taylor
Alan Wareing
8,316,000
25
281
3909
Monday 29th November 2004
Christine Murphy
Alan Wareing
10,009,000
11
282
3910
Tuesday 30th November 2004
Margaret Simpson
Alan Wareing
10,020,000
10
283
3911
Wednesday 1st December 2004
Margaret Simpson
Alan Wareing
10,124,000
9
284
3912
Thursday 2nd December 2004
Lisa Holdsworth
Alan Wareing
9,989,000
12
285
3913
Friday 3rd December 2004
Tim Dynevor
Alan Wareing
9,759,000
14
286
3914
Sunday 5th December 2004
Janys Chambers
Diana Patrick
7,600,000
28
287
3915
Monday 6th December 2004
Margaret Simpson
Diana Patrick
10,169,000
12
288
3916
Tuesday 7th December 2004
Lisa Holdsworth
Diana Patrick
8,970,000
19
289
3917
Wednesday 8th December 2004
Lisa Holdsworth
Diana Patrick
9,668,000
16
290
3918
Thursday 9th December 2004
Bill Lyons
Diana Patrick
9,684,000
15
291
3919
Friday 10th December 2004
Chris Thompson
Diana Patrick
9,088,000
18
292
3920
Sunday 12th December 2004
Lesley Clare O'Neill
Pip Short
8,074,000
22
293
3921
Monday 13th December 2004
Lesley Clare O'Neill
Pip Short
10,352,000
9
294
3922
Tuesday 14th December 2004
Andrew Kirk
Pip Short
9,519,000
11
295
3923
Wednesday 15th December 2004
Andrew Kirk
Pip Short
9,264,000
13
296
3924
Thursday 16th December 2004
Mark Illis
Pip Short
9,313,000
12
297
3925
Friday 17th December 2004
Mark Illis
Pip Short
9,184,000
14
298
3926
Monday 20th December 2004
Marc Peirson
Tim O'Mara
9,746,000
16
299
3927
Tuesday 21st December 2004
Tim Dynevor
Tim O'Mara
9,498,000
18
300
3928
Wednesday 22nd December 2004
Tim Dynevor
Tim O'Mara
8,868,000
23
301
3929
Thursday 23rd December 2004
Sarah Bagshaw
Tim O'Mara
8,335,000
25
302
3930
Friday 24th December 2004
Sarah Bagshaw
Tim O'Mara
7,584,000
27
303
3931
Saturday 25th December 2004
Karin Young
Tim O'Mara
7,765,000
26
304
3932
Monday 27th December 2004
Peter Kerry
Tim Dowd
9,260,000
13
305
3933
Tuesday 28th December 2004
Lindsay Williams
Tim Dowd
8,512,000
17
306
3934
Wednesday 29th December 2004
Bill Taylor
Tim Dowd
9,780,000
11
307
3935
Thursday 30th December 2004
Bill Taylor
Tim Dowd
9,984,000
10
308
3936
Friday 31st December 2004
Stephen Bennett
Tim Dowd
8,421,000
18
Main Cast
Edit
| Ranking | Character | Played by | Duration | Number of Episodes | Running total | Previous year's ranking |
| --- | --- | --- | --- | --- | --- | --- |
| 1 | Viv Windsor | Deena Payne | Full year | 188 | TBA | TBA |
| 2 | Emily Kirk | Kate McGregor | Full year | 180 | TBA | TBA |
| 3 | Chas Dingle | Lucy Pargeter | Full year | 177 | 217 | TBA |
| 3 | Marlon Dingle | Mark Charnock | Full year | 177 | TBA | TBA |
| 5 | Charity Tate | Emma Atkins | Full year, except February | 166 | 628 | TBA |
| 6 | Scott Windsor | Ben Freeman | Full year | 164 | TBA | TBA |
| 7 | Bob Hope | Tony Audenshaw | Full year | 158 | 542 | TBA |
| 8 | Louise Appleton | Emily Symons | Full year | 156 | TBA | TBA |
| 9 | Lisa Dingle | Jane Cox | Full year | 154 | TBA | TBA |
| 10 | Diane Blackstock/Sugden | Elizabeth Estensen | Full year, except November | 153 | TBA | TBA |
| 11 | Robert Sugden | Karl Davies | Full year | 152 | 1054 | TBA |
| 12 | Andy Sugden | Kelvin Fletcher | Full year | 149 | TBA | TBA |
| 13 | Katie Addyman/Sugden | Sammy Winward | Full year | 148 | TBA | TBA |
| 14 | Debbie Jones/Dingle | Charley Webb | Full year, except July | 143 | 288 | TBA |
| 14 | Donna Windsor | Verity Rushworth | Full year | 143 | TBA | TBA |
| 14 | Edna Birch | Shirley Stelfox | Full year | 143 | TBA | TBA |
| 17 | Rodney Blackstock | Patrick Mower | Full year | 142 | TBA | TBA |
| 18 | Ashley Thomas | John Middleton | Full year | 140 | TBA | TBA |
| 19 | Jarvis Skelton | Richard Moore | Full year | 134 | TBA | TBA |
| 20 | Zak Dingle | Steve Halliwell | Until May, from August | 133 | TBA | TBA |
| 21 | Tom King | Ken Farrington | From February | 131 | 131 | N/A |
| 22 | Val Lambert | Charlie Hardwick | February to September, from December | 130 | 130 | N/A |
| 23 | Zoe Tate | Leah Bracknell | Until August, from November | 129 | TBA | TBA |
| 24 | Jimmy King | Nick Miles | From February | 126 | 126 | N/A |
| 25 | Dawn Woods | Julia Mallam | Full year | 121 | TBA | TBA |
| 25 | Len Reynolds | Peter Martin | Full year, except November | 121 | TBA | TBA |
| 25 | Nicola Blackstock | Nicola Wheeler | Full year | 121 | 504 | TBA |
| 25 | Steph Stokes | Lorraine Chase | Until November | 121 | TBA | TBA |
| 29 | Cain Dingle | Jeff Hordley | Full year, except February | 120 | 561 | TBA |
| 29 | Jack Sugden | Clive Hornby | Full year, except November | 120 | TBA | TBA |
| 31 | Sam Dingle | James Hooton | Full year, except September | 115 | TBA | TBA |
| 32 | Alan Turner | Richard Thorp | Until July, September to November | 114 | TBA | TBA |
| 32 | Carl King | Tom Lister | From February | 114 | 114 | N/A |
| 34 | Chloe Atkinson | Amy Nuttall | Full year | 113 | TBA | TBA |
| 34 | Terry Woods | Billy Hartman | Full year | 113 | TBA | TBA |
| 36 | Sadie King | Patsy Kensit | From May | 110 | 110 | N/A |
| 37 | Danny Daggert | Cleveland Campbell | Full year | 108 | TBA | TBA |
| 38 | Pearl Ladderbanks | Meg Johnson | Full year, except November | 107 | 144 | TBA |
| 39 | Paddy Kirk | Dominic Brunt | Full year | 104 | TBA | TBA |
| 40 | Sydney Woolfe | Nathan Gladwell | Until November | 103 | TBA | TBA |
| 41 | Ethan Blake | Liam O'Brien | Full year | 98 | TBA | TBA |
| 42 | Laurel Potts | Charlotte Bellamy | Until August | 95 | 244 | TBA |
| 42 | Shadrach Dingle | Andy Devine | Full year | 95 | TBA | TBA |
| 44 | Darren Eden | Luke Roskell | Until February, from May | 92 | 124 | TBA |
| 45 | Simon Meredith | Dale Meeks | Full year | 84 | 93 | TBA |
| 46 | Matthew King | Matt Healy | From March | 78 | 78 | N/A |
| 47 | Jean Tate | Megan Pearson | Full year, except September | 75 | TBA | TBA |
| 48 | Eric Pollard | Christopher Chittell | Full year, except March | 73 | TBA | TBA |
| 48 | Victoria Sugden | Hannah Midgley | Full year | 73 | TBA | TBA |
| 50 | Shelly Williams | Carolyn Pickles | Until July, September | 64 | TBA | TBA |
| 51 | Siobhan Marsden | Abigail Fisher | Until September | 59 | TBA | TBA |
| 52 | TJ Woods | Connor Lee | Full year | 58 | TBA | TBA |
| 53 | Noah/Christopher Tate | Alfie Mortimer | March to September, from November | 55 | 55 | N/A |
| 54 | Paul Lambert | Mathew Bose | From September | 39 | 39 | N/A |
| 55 | Belle Dingle | Emily Mather | From March | 37 | TBA | TBA |
| 56 | Paul Marsden | Matthew Booth | Until July | 31 | TBA | TBA |
| 57 | Gabrielle Thomas | Annelise Manojlovic | Until February, April to June, August to October, December | 29 | TBA | TBA |
| 58 | Betty Eagleton | Meg Johnson | From November | 27 | TBA | TBA |
| 59 | Callum Rennie | Andrew Whipp | June, from August | 25 | 25 | N/A |
| 60 | Joseph Tate | Oliver Young | April to June, August and December | 14 | TBA | TBA |
| 61 | Bernice Blackstock | Samantha Giles | January only | 12 | 502 | TBA |
| 61 | Jean Hope | Julie Higginson | July to August | 12 | TBA | TBA |
| 63 | Alice Wilson | Ursula Holden-Gill | From Decmber | 10 | 10 | N/A |
| 64 | Aaron Livesy | Danny Webb | February and September | 9 | 13 | TBA |
| 64 | Lesley Meredith | Sherrie Hewson | June to August, from December | 9 | 9 | N/A |
| 66 | Tricia Dingle | Sheree Murphy | Until January | 8 | TBA | TBA |
| 67 | Carlos Diaz | Gary Turner | May only | 6 | TBA | N/A |
| 68 | Albert Dingle | Bobby Knutt | October only | 5 | TBA | N/A |
| 69 | Faith Dingle | Gillian Jephcott | October only | 3 | 5 | N/A |
| 70 | Brian Addyman | Martin Reeve | February only | 2 | TBA | TBA |
| 70 | Emma Nightingale | Rachel Ambler | May to June | 2 | 90 | N/A |
| 70 | Seth Armstrong | Stan Richards | November to December | 2 | TBA | TBA |
| 73 | Gloria Weaver | Janice McKenzie | February only | 1 | TBA | TBA |
Storylines
Edit
to be added
Who lives where
Edit
to be added
Awards and Nominations
Edit
National Television Awards
British Soap Awards
Inside Soap Awards
Royal Television Society