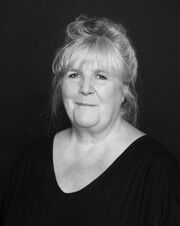 Jane Cox
is an English actress well known for her part in ITV's Emmerdale as farmer's wife
Lisa Dingle
.
Jane lives in the former mill town of Hebden Bridge in West Yorkshire and trained at Rose Bruford College. She has also starred in episodes of Coronation Street, Hetty Wainthrop Investigates and The Bill. Her most notable pre-Emmerdale role was as the leading female in the children's entertainment series Allsorts, which aired at 12:10 when ITV used to broadcast children's programmes such as Rosie & Jim, Rod, Jane and Freddy and Rainbow between 1990-1992. When Carlton Television replaced Thames Television in 1991, it announced in 1992 that all of these shows - and thus the lunchtime strand of pre-school programmes - would be axed, to make way for an extended version of This Morning. Come 1993, when Carlton first aired in London, they were gone. She also spent two years with the Royal Shakespeare Company.
In 1996, Cox made her first appearance in British soap Emmerdale as fictional character Lisa Dingle.
Before starting in Emmerdale Jane used to work as a drama school teacher.
Ad blocker interference detected!
Wikia is a free-to-use site that makes money from advertising. We have a modified experience for viewers using ad blockers

Wikia is not accessible if you've made further modifications. Remove the custom ad blocker rule(s) and the page will load as expected.