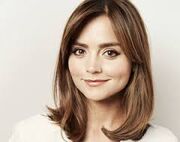 Jenna-Louise Coleman
(born
27th April
1986
in Blackpool, Lancashire, England) played
Jasmine Thomas
in
Emmerdale
between
2005
and
2009
.
After leaving Emmerdale, Jenna went on to appear in Waterloo Road, Captain America: The First Avenger, Titanic, Room at the Top, and Dancing on the Edge, but achieved international success for her role as the companion, Clara Oswald, in the long-running BBC science-fiction series Doctor Who, on which she appeared from 2012 to 2015. In the spring of 2013, Coleman shortened her professional name to Jenna Coleman.
After leaving Doctor Who, Coleman took on the role of Queen Victoria in the ITV series Victoria, that debuted in 2016; a second series will air in 2017.
Ad blocker interference detected!
Wikia is a free-to-use site that makes money from advertising. We have a modified experience for viewers using ad blockers

Wikia is not accessible if you've made further modifications. Remove the custom ad blocker rule(s) and the page will load as expected.