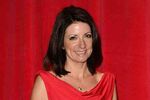 Katherine Dow Blyton is an English actress was has appeared in Emmerdale as Harriet Finch since 2013. In 1996, Blyton appeared in Emmerdale as an unnamed Doctor who treated Roy Glover after he severed his fingers.
Between 2001 and 2005, Blyton appeared as Sally Hunter in Hollyoaks. She has also had minor roles in Coronation Street, The Royal and Where The Heart Is amongst others.
Ad blocker interference detected!
Wikia is a free-to-use site that makes money from advertising. We have a modified experience for viewers using ad blockers

Wikia is not accessible if you've made further modifications. Remove the custom ad blocker rule(s) and the page will load as expected.