Leo Goskirk is the son of Marlon Dingle and Rhona Goskirk and half-brother of April Windsor.
Storylines
Edit
2010-2015: Conception and Early life
Edit
Shortly after she left Marlon for his best friend Paddy Kirk, Rhona found out that she was pregnant with Marlon's baby. Marlon intially refused to be a part of the baby's life and didn't attend Rhona's fist scan. In mid December 2010, Rhona was informed that her baby was likely to have downs syndrome. The following day tests confirmed that her baby has downs syndrome. Rhona was initially unsure whether or not to keep the baby but Marlon came round and persuaded her to keep their baby. Rhona, Marlon and Paddy decided that the three of them would bring up the baby together.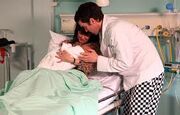 On
30th May
2011
, Rhona went into labour after being being accidentally pushed over by 
Adam Barton
, who was fighting with
Aaron Livesy
. Marlon accompanied Rhona to the hospital where she gave birth to a baby boy. They decided to name their son Leo. Leo was christened in
St. Mary's Church
with Aaron and
Laurel Thomas
as his godparents.
Paddy was offered a job in New Zealand in 2012. Paddy, Rhona and Marlon planned on taking baby Leo to New Zealand to start a new life together but Marlon changed his mind due to his new relationship with Laurel. Paddy and Rhona still intend to move to New Zealand without Marlon, but he couldn't face losing his son so he took out a court injunction to stop them taking Leo out of the country. After Paddy and Marlon were arrested for fighting in the street, Rhona took Leo to New Zeland, breaking the injunction in the process. She soon brought Leo back.
In 2013, Rhona became increasingly dependent on prescription drugs after she hurt her back. She began to neglect Leo so Marlon took Leo away from Rhona whilst she got clean. Marlon's ex-wife Donna Windsor reappeared in the village with Marlon's daughter April Windsor, Leo's half-sister. Marlon internally refused to be part of her life but Rhona persuaded him to allow Leo to get to know his sister, as long as they did't know they were siblings. Marlon soon came round and accepted April. In July 2015, Robert Sugden threatened Leo and Rhona after Paddy nearly revealed Aaron and Robert's affair to Robert's wife Chrissie Sugden.
Additional Information
Edit
Ad blocker interference detected!
Wikia is a free-to-use site that makes money from advertising. We have a modified experience for viewers using ad blockers

Wikia is not accessible if you've made further modifications. Remove the custom ad blocker rule(s) and the page will load as expected.