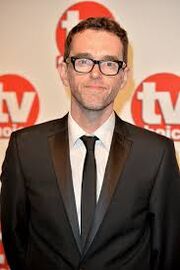 Mark Charnock
(born
28th August
1968
in Bolton, Lancashire) is an English actor best known for his part in ITV's
Emmerdale
as lanky chef
Marlon Dingle
.
Mark was educated at Canon Slade School, Hull University and Webber Douglas Academy of Dramatic Art. He is married with children and is an avid supporter of Manchester United F.C.. A self-confessed zombie obsessive, with fellow Emmerdale co-star and best friend, Dominic Brunt, he hosted the city of Leeds' first ever Zombie festival on 20 April 2008.
Mark's TV debut was in 1992, when he played the character of 'Duane' in an episode of 2point4 children. He also starred alongside Sir Derek Jacobi in TV drama Cadfael from 1994-1997. He played the bumbling Brother Oswin, a young novice who often accompanies Benedictine monk Brother Cadfael during his private investigations. He got the part of Marlon Dingle in Emmerdale in 1996 and has been playing him ever since.
Ad blocker interference detected!
Wikia is a free-to-use site that makes money from advertising. We have a modified experience for viewers using ad blockers

Wikia is not accessible if you've made further modifications. Remove the custom ad blocker rule(s) and the page will load as expected.