Patricia Ruth 'Pat' Sugden (neé Harker; previously Merrick) is the wife of Jack Sugden and ex-wife of Tom Merrick.
Backstory
Edit
Pat Harker was born in Beckindale in July 1944 to Robert and Louise Harker. She had a younger sister called Janie. When she entered her teens she started dating local farmboy Jack Sugden. But in February 1964 he left Beckindale and Ruth, as she was then known, got together with Tom Merrick when she learned she was pregnant. They married in April 1964. Later that year she gave birth to a son Jackie and two years later a daughter, Sandie.
1972, 1974
Edit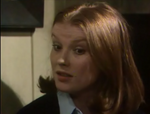 The Merrick family left Beckindale for Leeds in 1972 when Jack returned to the village and offered Ruth £100. Ruth returned briefly in January 1974 to see her sister Janie Blakey.
1980-1986
Edit
In September 1980 Ruth, now calling herself Pat, returned to Beckindale with Jackie and Sandie to stay with her aunt Elsie after she left Tom for good. But Elsie would not take them in as her children would make a lot of noise. NY Estates found her a home in a grotty, stuffy caravan. Later that year Tom came back to town but by this time Pat had started dating Jack again. Tom tried to frame Jack in an arson attack of which Jack had an alibi. Seth Armstrong found out the truth and told Tom to leave Beckindale with threats of disclosure.
In 1982 Pat and Jack married with Matt Skilbeck as best man and Sandie as bridesmaid. Pat and Jack where happy for quite a while until in 1984 when Jack had an affair with reporter Karen Moore. The couple split up for a while but later got back together.
In 1985 Pat learned she was pregnant and gave birth to Robert Jacob Sugden in April 1986 which brought her and Jack closer together. Tragedy struck however 4 months later when Pat died after her car crashed down a hillside when she swerved to avoid a flock of sheep.
"Hello Joe." (First line)
"Just remember what I said, about families and babies. It does make sense." (Final line, to Janie Harker)
Ad blocker interference detected!
Wikia is a free-to-use site that makes money from advertising. We have a modified experience for viewers using ad blockers

Wikia is not accessible if you've made further modifications. Remove the custom ad blocker rule(s) and the page will load as expected.