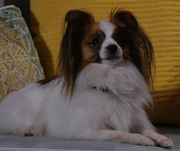 Tootsie
is
Edna Birch
's dog. She was first seen in
2002
when her recently deceased owner's daughter took her to
Paddy Kirk
, saying she would care for her as best she could but that she owned several cats and she didn't want a dog. Paddy took pity on the dog, as she was older and less likely to find a new home. Edna, grieving for her beloved
Batley
, adopted Tootsie.
In 2007, Tootsie gave birth to a litter of pups. In late 2012, Edna became concerned about Tootsie so she took her to the Vet's. After a biopsy Paddy told Edna that Tootsie was suffering from spleen cancer. Tootsie underwent several rounds of chemotherapy in 2013.
In May 2016, Tootsie faced an uncertain future when Edna died after a short battle with ovarian cancer. However, Edna's friend Harriet Finch decided to look after Tootsie and she moved into Edna's old home, Woodbine Cottage.
Ad blocker interference detected!
Wikia is a free-to-use site that makes money from advertising. We have a modified experience for viewers using ad blockers

Wikia is not accessible if you've made further modifications. Remove the custom ad blocker rule(s) and the page will load as expected.